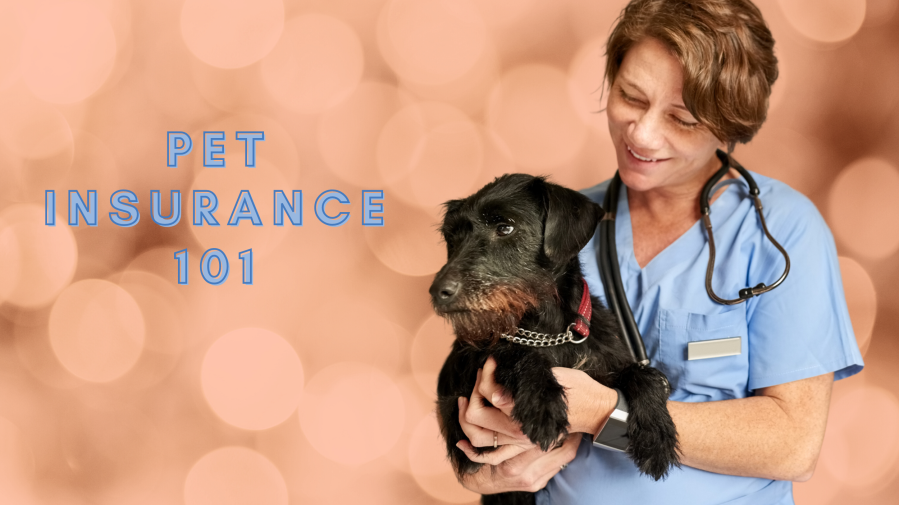 Similar to the health insurance you have for yourself and your family, pet insurance is a type of insurance policy you can buy to help cover the costs of your pet's veterinary care. It helps you afford everything from emergency treatment to routine medical expenses by lowering the out-of-pocket amount you end up paying for your critter's trips to the vet.
As the costs of pet parenthood continue to rise — with inflation bumping up prices on everything from food and treats to doggy daycare memberships — it's more important than ever for your pet's health (and your wallet) to save where you can. Although a pet insurance policy is an initial expense you'll want to budget for, it has the potential to save you money in the long run. Ready to find out how? Take a look into the basics of pet insurance to find out.
How Does Pet Insurance Work?
Like your own health insurance, pet insurance helps to limit the financial impact of vet costs, from routine wellness visits to unanticipated emergencies. You can purchase different policies that cover different care needs in different ways. Most policies outline the conditions, deductible, reimbursement rate and maximum coverage payout your pet's care is eligible for. You can also pay for coverage monthly like you do with your own healthcare policy.
Pet policies aren't exactly the same as human policies, of course. One great feature of pet insurance is that you don't have to look for "in-network" vets who accept your policy. This is because the insurance company reimburses you, not your pet's vet, for the costs of care. While this does mean you'll need to pay out of pocket for pet care and then wait for the insurance company to pay you back, it does grant you the freedom to choose the vet you want to visit.
To get reimbursement from a pet insurance company, you submit a claim for your pet's medical expenses. On average, you'll receive 70% to 100% back as reimbursement after meeting the plan's deductible. Most insurance companies need to verify the appointment and the types of treatment your pet received. Reimbursement of a claim takes an average of five to nine days after you submit it.
Below is a brief overview of some of the common terms you'll encounter when you start researching pet policies, along with how they impact your payments for care.
Deductible
A deductible is a predetermined amount you must pay to the insurance company before the insurance company starts covering the costs of your pet's treatments. Most pet insurance policies have deductibles, and the average amount is around $250 per year.
Reimbursement Percentage
Reimbursement percentage represents the remaining amount the insurance company is expected to pay after you meet the deductible. For example, if your veterinary bill is $600 and you have a $200 annual deductible with 80% reimbursement, your pet insurance will cover $320 of that bill. First, your deductible is subtracted from the total vet cost ($600-$200 =$400) because you'll pay that out of pocket. After that, the remaining amount is reimbursed at a rate of 80% (80% of $400 = $320). If you have future bills, you won't need to pay the deductible again until the following year.
Annual Coverage Limit
This is the total amount an insurance company is expected to pay in claims throughout a year. It represents the maximum amount you can be reimbursed over a 12-month coverage period. For example, if you choose an annual limit of $3,000 and spend a total of $3,500 on veterinary costs, you'll receive a reimbursement of $3,000. Some insurance companies may offer to reimburse the amount you pay over the limit. This type of policy resets at the start of a new year.
What Does Pet Insurance Cover?
Pet insurance helps you pay for veterinary costs ranging from routine checkups to minor or major surgeries. The coverage you're eligible to receive reimbursement for largely depends on the type of policy you choose. If your pet has specific health risks, it's essential to find out whether the plan covers treatment for the animal's condition — or will in the future if your pet develops a chronic condition. It's also important to find out what types of animals a policy covers. While some cover every species from chinchillas to lizards to dogs, others only cover cats and dogs.
Although not every type of animal can participate in a policy, most policies have some common covered events. These include:
Emergency exam costs
Medication
Surgery
Unexpected illnesses, such as glaucoma or parvovirus
Unexpected accidents or injuries, such as broken bones
It's worth noting that many pet insurance policies don't cover pre-existing conditions. But, some plans may provide additional coverage for:
Hospital accommodation
Nursing
Acupuncture
Chiropractor
Behavioral modification
Alternative therapies
Hydrotherapy
Lost pet reward or advertising
What Are the Benefits of Pet Insurance?
Like any other insurance coverage, pet insurance also comes with its own set of benefits. Below are some perks you can expect to enjoy when you sign up for a policy.
Vet Choice
Unlike people's health insurance, pet insurance doesn't dictate which veterinarian you can choose. You can take your pet to almost any vet of your choosing, as long as they're licensed.
Simplified Policies
Pet insurance policies aren't incredibly detailed. Most companies provide around three coverage options or tiers to choose from: basic coverage or accident only, illness and accident, or comprehensive care.
Inexpensive Premiums
The costs of premiums vary based on the age or breed of your pet, the area where you live and other variables. Although these elements can impact what you pay, pet insurance overall remains relatively affordable. On average, the cost of monthly premiums ranges from $10 to $100.
Types of Pet Insurance Coverage
Most pet insurance policies are relatively simple. Although their complexity can vary based on the provider you end up choosing, pet insurance typically features three tiers.
Accident and Illness Coverage
This type of insurance policy covers treatment for a wide range of illnesses, from minor ailments to major conditions like cancer. It's commonly referred to as a comprehensive policy. This type of coverage can provide reimbursement for conditions such as hyperthyroidism, hepatitis, arthritis and diabetes.
Accident Only Coverage
As the name suggests, this coverage only reimburses your costs for treating illnesses or conditions caused by an accident or mishap. This type of policy doesn't apply to pet owners who intentionally inflict harm on their pets. Accident-only coverage offers affordable monthly premiums. However, you may have to pay for routine and illness treatment costs out of pocket.
Wellness Coverage
This policy is available as an add-on from some insurance companies or sold as a standalone policy from others. Also known as preventative care coverage, it helps you pay for routine or preventative care procedures that aren't strictly medical in nature but are related to your pet's overall well-being. The procedures covered under this policy can include microchipping, grooming, training, vaccination, neutering or spaying, and whelping expenses.
A pet insurance policy can provide you the peace of mind that your pet's medical needs will be taken care of and you won't have to avoid treatments that don't fit into your budget. However, it's essential to read through the fine print of each insurance policy you consider to understand what is and isn't covered before you make your decision.