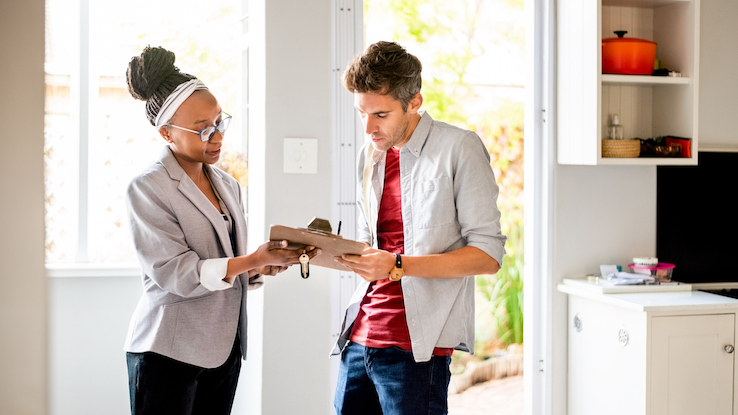 The UK recognizes a tenancy agreement as a legal and binding statement between a tenant looking to rent from a landlord and for that same landlord to receive financial compensation from the tenant. This guide highlights the essential terms and factors to fill out on a blank tenancy agreement in the UK.
What Exactly Is a Tenancy Agreement?
A tenancy agreement is a legal agreement that includes the exact terms between the tenant and landlord. This includes all tenant rights and the financial compensation for the landlord. All rental terms are mentioned within the agreement, and each party signs the blank lease form. If you live in England or Wales, a blank tenancy agreement is referred to as an Assured Shorthold Tenancy, and in Scotland, a blank lease agreement goes by Private Residential Tenancy.
Regardless of the blank tenancy agreement you draw up, it is recommended that it is signed. That way, the tenant is assured of their rights to the rented property, including any repairs the landlord must address. Also, tenant agreements can be written or oral.
Things to Consider for a Blank Rental Agreement
While some tenancy agreements contain more terms than others, here are the essential points to consider when creating a blank tenancy agreement form.
The rental duration: Tenancy agreements can include long-term rentals or short-term, as on a weekly or bi-monthly basis.
The tenant's name: The landlord has the right to know who exactly wants to rent the property and if that person legally exists.
The landlord's contact info: Likewise, the prospective renter is entitled to know who the landlord is and how to reach them. The landlord's contact information is also important in sending the agreed-upon payment.
The rental price: Both parties agree upon the exact rental amount and its due date. If there are penalties for late payment, this should go on the blank tenancy agreement form.
Who's responsible for utilities: Whether or not the utilities are the tenant's responsibility or the landlord's, this main point needs to be explained in detail on a blank rental agreement.
Rental increases: Different areas address the cost of living increases differently. It is important that any rental increases are agreed upon before signing the tenancy agreement form. The landlord and tenant should also agree to the terms of increasing rent in advance.
Rental termination: Tenants deserve rental rights from unlawful evictions, and landlords deserve the right to protect their private property and make income from them. The terms of a rental termination should be on a blank tenancy agreement. It should also include other allowable factors that will terminate the agreement or lease.
Some other things to consider when drafting a blank tenancy agreement are whether or not the property comes with any furnishings. Also, how much down payment needs to be put down by the prospective tenant is relevant.
Lastly, blank tenancy agreements can contain succession rights. Should the legal tenant die before the end of the tenancy agreement, the UK permits a spouse, a partner from a civil union, or an agreed-upon roommate who was living with the regulated tenant before their death to assume the tenancy agreement.
Types of Blank Tenancy Agreements
Prospective renters and landlords looking to rent out a privately owned property can strike up a blank tenancy agreement for assured, regulated, excluded and periodic tenancies.
An Assured Tenancy Agreement
This popular type of agreement affords the renter stable tenant rights over a long period, providing greater protection against eviction. Private properties that are residential halls, commercial or earn rent above 100,000 pounds per year are not eligible for assured tenancy agreements.
A Regulated Tenancy Agreement
One of the main benefits of drawing up a blank tenancy agreement for a regulated tenancy is extra protection from evictions. Thanks to the UK Housing Act of 1988, rental agreements signed before January 15, 1989, are considered a regulated tenancy. Tenants, under this agreement can apply for a fair rent.
Excluded Tenancy Agreements
If you live in your private property, you can rent all or parts of your property under an excluded tenancy agreement. However, excluded tenancy agreements don't offer the renter all the eviction protections compared to other tenancy agreements.
Oral Tenancy Agreements
The UK government recognizes oral agreements between the would-be renter and the landlord, especially if you struck a verbal deal on the rental duration, amount and conditions. However, should a dispute arise over a verbal agreement when drafting a blank tenancy agreement, emails or text messages between the prospective renter and tenant might serve as proof.
Introductory Tenancy Agreements
Introductory tenancy agreements usually run for 12 months to prove to a landlord a tenant's long-term reliability for following the terms of a tenancy agreement. With this agreement, landlords do not prove grounds for eviction to a court. Here are some common reasons to disqualify a tenant from a long-term tenant agreement.
Not paying rent or being chronically late paying it
Causing destruction or vandalizing the property
Conducting an illegal business on the premises or engaging in unlawful activity
On the flip side, if the tenant follows the terms of the introductory tenancy agreement for its duration, the tenant automatically moves into a form of a secure tenancy.
Secure Tenancy Agreements
Barring illegal activity on the premises, most tenants operating under a secure tenancy agreement can usually live out their natural life on that property. In addition, renters using this agreement for at least three years can be eligible to buy the property via a "right to buy" plan.
Amending a Tenancy Agreement
When drafting a blank tenancy agreement, the terms and conditions of amending it is another factor to include. If no such amendment exists, the renter and the landlord can agree to any altered conditions or brand new rental terms.
Both the renter and landlord may request an updated tenancy agreement or a new one entirely, especially for any rental changes, inheritance or succession, additional roommates, or if the renter is seeking to transfer the deal to another family member or a civil union partner.
While changes can be agreed upon verbally, both parties must agree to either a brand new tenancy agreement or an approved update to the existing one.