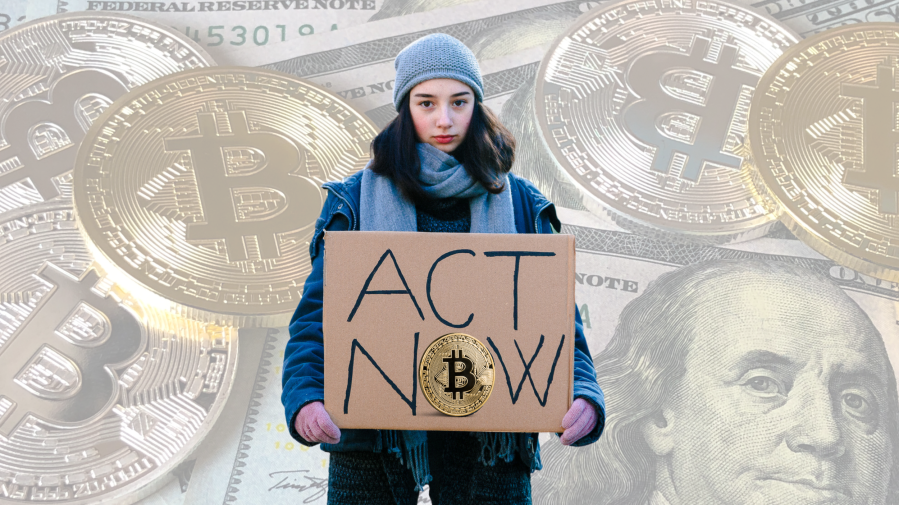 Years ago, the advent of the internet and online transactions made activism and donations simpler for people to achieve by streamlining the process of getting the word out — and getting money to worthy causes faster. While these efforts initially began with typical fiat currency options, today, people are increasingly opening their crypto wallets to support causes that matter to them.
Technically, crypto activism isn't new. However, it's recently gained far more traction as individuals continue looking to offer support to Ukraine in the wake of the Russian invasion. The Ukrainian government explicitly reached out requesting cryptocurrency donations, effectively crowdfunding tens of millions of dollars. Pussy Riot – a Russian feminist punk band known for being anti-Putin activists – also hopped into the NFT market to raise funds for nonprofits in Ukraine.
While recent events showcase how cryptocurrency activism and its donation landscape are growing, they also only highlight part of the broader picture. There's a lot more to know about crypto donations and activism — and a lot more potential for this newer form of fundraising.
Why Cryptocurrency Is a Donation Solution
Cryptocurrency's role soliciting and processing donations for a range of causes is becoming more and more popular for several reasons. First, it can simplify your ability to support charities on an international level. Crypto isn't tied to a fiat currency directly, so there's no worrying about exchange rates. Instead, its value is only converted into a fiat currency upon a sale and withdrawal.
Because crypto functions independently of fiat currency, collecting crypto donations from an international audience is simpler. Essentially, a Bitcoin is a Bitcoin, regardless of whether the donor is from the United States, Australia, China, Brazil or Zimbabwe.
Additionally, the transactions don't rely on traditional banking channels. Again, if you're appealing to an international audience, that simplifies donation collection while leaving everything centralized in a single system. Plus, it allows people who are seeking donations to avoid the costs that may come with international transaction processing and fiat currency conversions.
Together, that makes crypto donations borderless and permit-less. For broad-scale action, it makes activism more accessible to people, regardless of their physical location. In addition, crypto donations are essentially instantaneous. There's little to no processing time, which allows the recipient organization to access the value of a donation immediately.
How Are People Using Cryptocurrency for Activism?
In the activism landscape, cryptocurrency can complete several key tasks. One of the most important is providing aid to those in need. An increasing number of nonprofits are welcoming crypto donations and are using those funds to ensure individuals impacted by unprecedented events can get critical support during these crises.
Additionally, cryptocurrency can help those who need payment options to continue securing goods and services, especially in situations where traditional banking is no longer available. That occurred in Ukraine after the central bank suspended electronic cash transfers, a move that likely prevented transactions through services like PayPal or Venmo, along with various bank-specific electronic payment services.
In the NFT market, activism can take on a new form. Along with serving as a mechanism for securing funds, digital artworks used as NFTs can become platforms for commentary. People who create new NFTs to support a cause can feature imagery based on the message they want to share or a point they want to make. In that case, the impact is potentially two-fold.
The Benefits and Drawbacks of Crypto Donation and Activism
There are many benefits to crypto donations and activism. One of the major pluses is the borderless nature. If your intended recipient accepts crypto donations, you can support the cause regardless of location — and without the challenges that come with using fiat currencies and traditional banking systems.
Additionally, cryptocurrency donations can come with tax benefits if you're in the United States. Traditionally, trading crypto can trigger capital gains on income taxes, depending on how long you hold the asset and how its value shifted since you acquired it. By donating cryptocurrencies directly, you can potentially bypass certain taxes relating to your crypto investing and may qualify for a write-off if you itemize.
There's also a higher degree of privacy when you're donating cryptocurrency. If you're backing causes that aren't widely or socially accepted in your area, this option can be particularly appealing. It allows you to support activism while avoiding some of the risks because your donations are completely anonymous.
When it comes to drawbacks, crypto scams are one of the biggest challenges you might face. Creating seemingly authentic websites and social media accounts to solicit donations isn't too challenging for scammers — and that makes the crypto-donation landscape a top choice for thieves looking to prey on those who want to help, especially during times of great need.
Safely Donating Cryptocurrency: What You Need to Know
While you may know the ins and outs of safely investing in cryptocurrency, navigating the crypto-donation landscape requires some additional know-how.
First, avoid donating to individuals you don't know. Not only does that increase your odds of encountering a scam, but it also eliminates any potential tax benefits. Generally, only donations to approved nonprofits qualify for tax deductions, so stick with formal entities instead of individuals you don't know personally.
Before you provide any crypto to an organization soliciting donations, a bit of due diligence is essential. Research the organization requesting funds to ensure it's reputable and uses donations wisely. Additionally, ensure that the solicitation is genuinely from that institution. Scammers may claim a request is for a particular organization in an attempt to trick you into sending crypto to their wallets.
Don't click on links from third parties or outside sources to learn more. Instead, head to the organization's website or social media profiles directly to determine if it's seeking cryptocurrency donations.
You'll also want to vet the processor. Many institutions use third-party processors to accept cryptocurrency donations. When that's the case, you'll want to make sure that entity is also reputable.
In many cases, it's wise to avoid using QR codes connected to donation requests. Scammers are increasingly using QR codes to distribute malware to mobile devices. Additionally, they're a popular method for sending potential donors to scam websites instead of legitimate destinations.
Ultimately, with a bit of care and research, finding safe ways to donate cryptocurrency is possible. Stick with reliable nonprofits and head directly to their sites and profiles to find ways to donate funds. This helps you keep yourself and your finances secure while supporting causes you believe in.