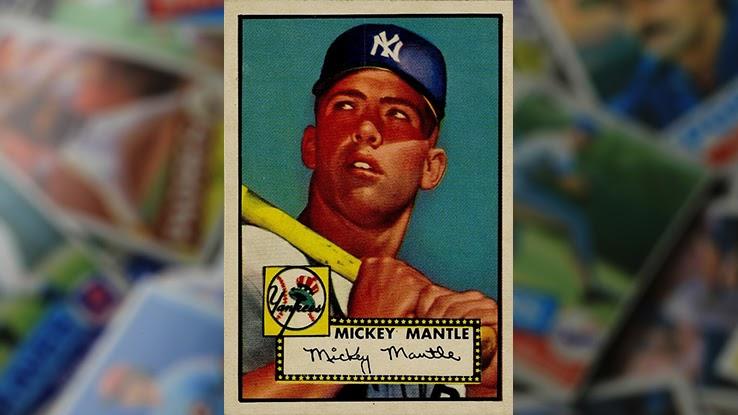 Baseball cards were first printed in the 1860s, but their first surge in widespread popularity didn't occur until the turn of the 20th century. American Tobacco Company inserted cards into cigarette packs in 1909, long before the practice became synonymous with more family-friendly packs of gum in the 1930s. By 1950, several companies exclusively focused on the baseball card business, ultimately turning baseball card collecting into a national phenomenon.
Like any collectible, the actual monetary value of baseball cards is determined by the rarity of the card, unusual characteristics like errors and misprints, condition of the card, and the actual demand among collectors to own the card. A flawless Babe Ruth card won't be worth a dime if no one wants to buy it — they do, of course! After more than 150 years of card production, the list of valuable baseball cards is impressive and lengthy. For now, we'll focus on the values of some of the most expensive baseball cards on the collectors' market.
10. Joe DiMaggio – 1938 Goudey (PSA 9 Sold for $288,000)
As one of the most popular New York Yankees of all time, Joltin' Joe DiMaggio appeared on a lot of valuable baseball cards over the years, but his rookie card ranks as the top DiMaggio dream acquisition of serious collectors. The 1938 season featured DiMaggio batting .324 with 32 home runs and 140 RBIs.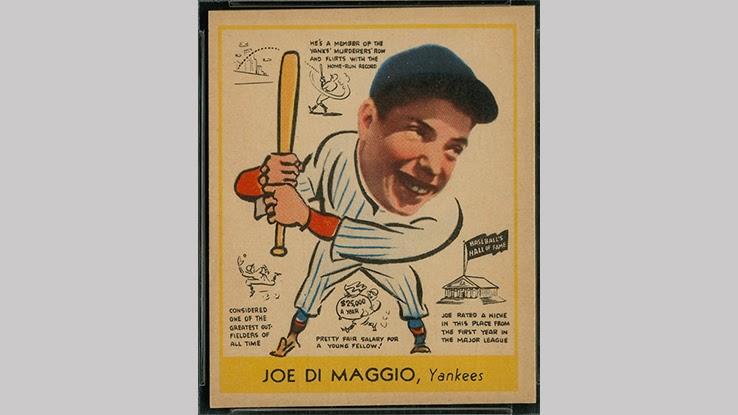 PSA, a world-renowned third-party authentication company, assigns a grade of 1 to 10 in determining a baseball card's value. This particular card was quite common, but the image on it was often off-center with multiple printing defects, and the cardstock used by Goudey (the manufacturer) quickly degraded and diminished the card's quality. As a result, the highest known grade for the 1938 Goudey Joe DiMaggio card is the 9 given to a card that sold for $288,000 at an auction in 2017.
9. Hank Aaron – 1954 Topps (PSA 10 Sold for $358,000)
The year after Topps became a full-time baseball card manufacturer, the company released this highly coveted Henry (Hank) Aaron card. Like many cards of its time, the run contained printing errors and poor centering. The image is one of the most recognizable in the collecting world, although only serious collectors with some cash to spend have ever managed to acquire it.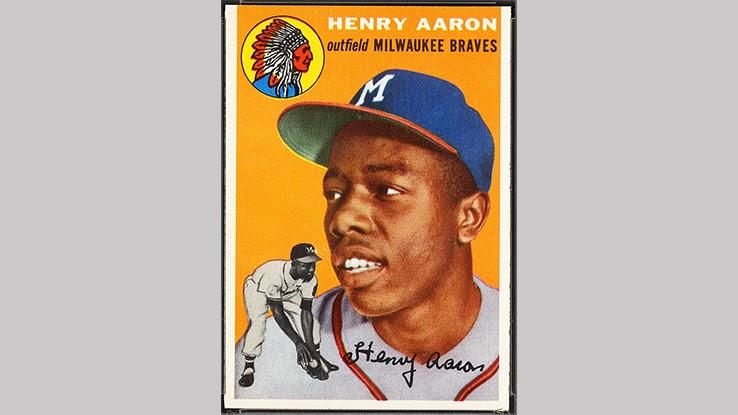 The most common grades available range between 4 and 5 — corresponding average values between $3,000 and $4,650 in 2020 — for this card. A recent sale of a 1954 Topps Hank Aaron card with a PSA grade of 9 brought in more than $209,000. An extremely rare version with the highest PSA grade of 10 sold for more than $357,000 in 2012.
8. Roberto Clemente – 1955 Topps (PSA 10 Sold for $478,000)
Roberto Clemente's 1955 Topps rookie card (#164) is the pinnacle achievement in a collector's set due to its visual appeal as well as its mindblowing value. The entire 1955 set is coveted by collectors, who find it challenging to obtain high-grade copies of the cards. One known PSA 10 Clemente card exists as part of a private collection, but in 2016, a Mint PSA 9 Clemente card brought in the highest known price at auction — a whopping $478,000.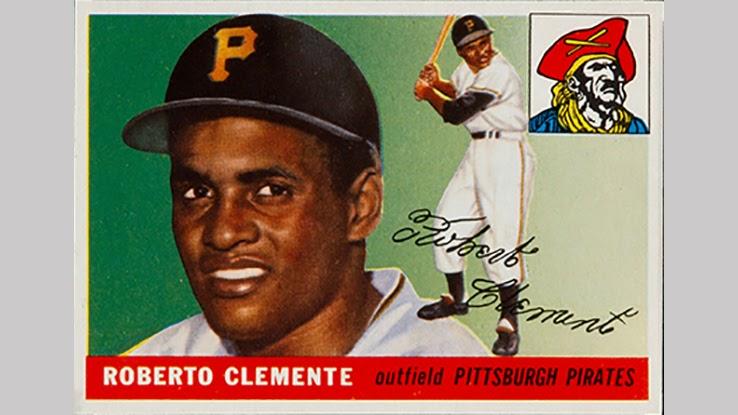 7. Joe Doyle – 1909/11 T206 (PSA 3 Worth $550,000)
One of the rarest cards from the tobacco company era is the 1909 Joe Doyle from the T206 set. First, note that there are two variations of this card, so don't get immediately excited if you find one until you fully examine it. The bottom of the more common card lists the player's name and the team he represents. The standard card for Doyle says "Doyle, N.Y." The incredibly valuable variation, however, says "Doyle, N.Y. Nat'l" at the bottom.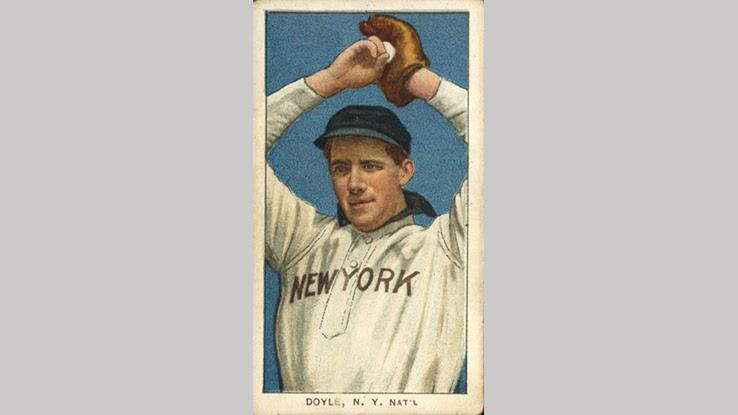 Doyle played for an American League team, and the error was caught quickly, which makes the error card an extremely rare baseball card find. Only a handful of PSA 3 cards are known to exist at an estimated value of $550,000.
6. Babe Ruth – 1914 Baltimore News (PSA 2 Sold for $575,000)
Babe Ruth adorns this rare card printed in 1914 during his minor league years playing for the Baltimore Orioles. The entire specialty set printed by the Baltimore News features players from the city's two local teams. The back of each card contains the corresponding team's schedule for that season.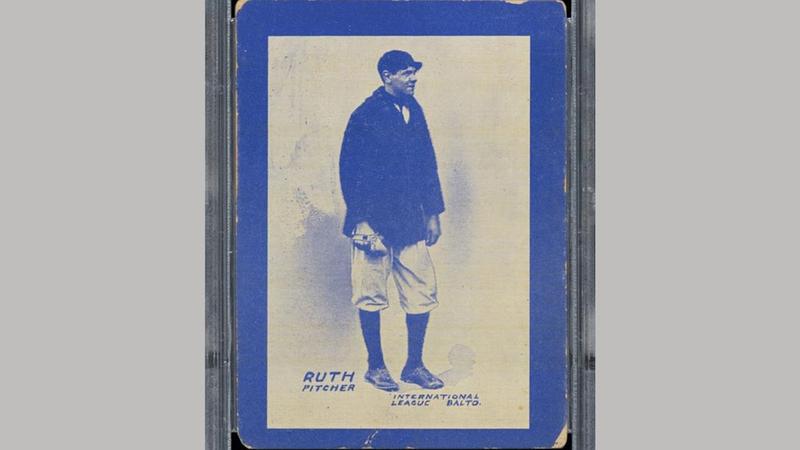 The Sultan of Swat was quickly recruited to move up to play for the Boston Red Sox, where he gained legendary status among players and fans alike. Only 10 known copies exist of this card, which originally came with two borders, red and blue. Even at a mediocre grade of PSA 2 (good), this version with the blue border sold at auction for an impressive $575,000 in 2012.
5. Babe Ruth – 1915/16 Sporting News (PSA 7 Sold for $600,000)
The Great Bambino appropriately appears on this list more than once. The 1915/1916 Sporting News card is one of the most difficult to locate. It was the most important and valuable card in the M101-5 set, which features a total of 200 cards. However, for a card of this magnitude to truly be worth a fortune, the image must not be off-center, which was a common flaw in cards printed during this time.
In 2017, a collector purchased a PSA 7 version of this card for $600,000. PSA has previously graded one card higher at PSA 8, but no sales records exist for that particular card.
4. Joe Jackson – 1909 American Caramel E90-1 (PSA 8 Sold for $667,189)
Featured in the famous baseball film Field of Dreams, "Shoeless" Joe Jackson's rookie card was available wrapped up with pre-World War I candy. The back of the card states that only 100 cards were made, but more than 100 are known to exist. This card is one of only a few Joe Jackson cards available and is definitely the most valuable version. A PSA 8 version of the card sold at auction for more than $667,000 in 2019.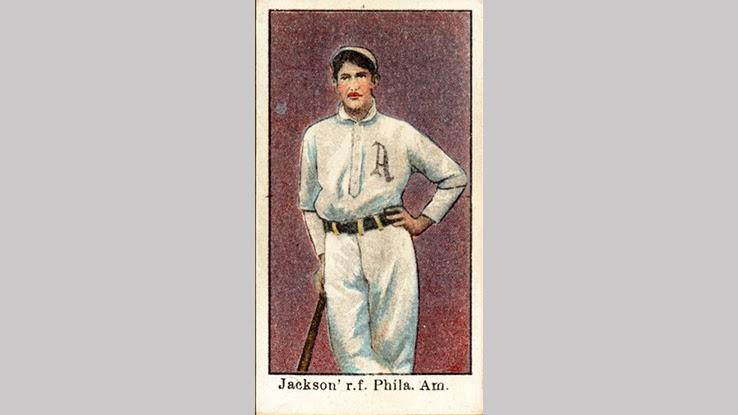 3. Ty Cobb (Portrait-Red) – 1909/11 T206 White Border (PSA 4.5 Sold for $894,250)
Completing the T206 collection is extremely difficult, even for collectors with ample financial means. Ty Cobb appeared on a total of five of the T206 cards. The Red Portrait Cobb card — named for the background behind the player — comes in two variations. To make it even trickier, the two cards are indistinguishable from the front. However, the rare variation contains the words "TY COBB, KING OF THE SMOKING TOBACCO WORLD" on the back of the card in green ink.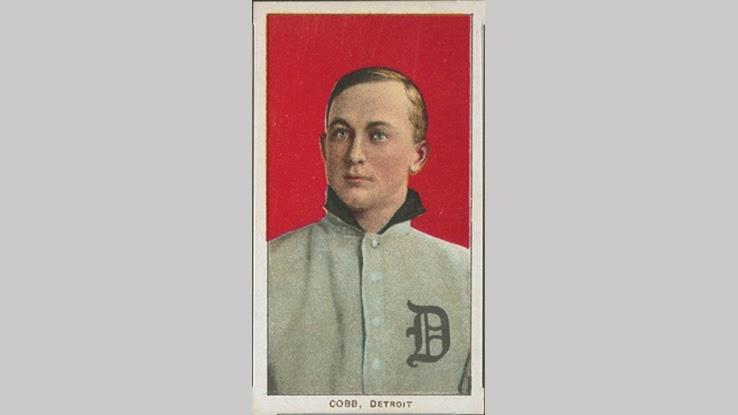 The rare card was also produced with a glossier coating to make it more resistant to tobacco stains that could occur inside the package. A PSA 4.5 version of this card sold for almost $900,000 at an auction in 2020.
2. Mickey Mantle – 1952 Topps (PSA 9 Sold for $2,880,000)
As one of the most well-known baseball cards in existence, the 1952 Topps Mickey Mantle rookie card is one of the two most coveted cards by collectors around the world. Mantle's extensive baseball card catalog is chock-full of memorable prints. PSA has even said the card acts "as the poster child or the symbol of baseball card collecting."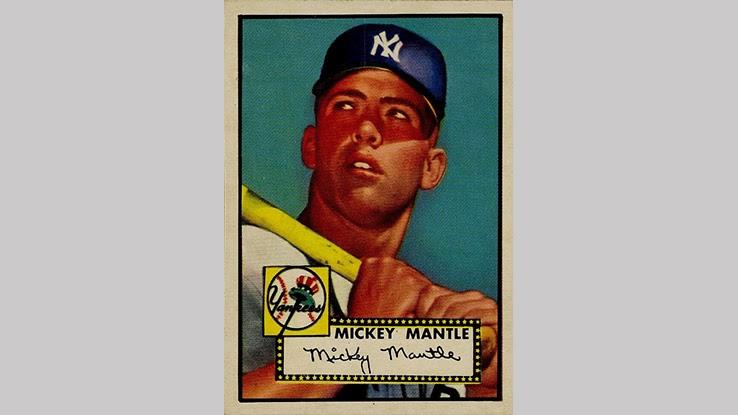 Interestingly, many copies of this card are still available, but fewer than 10 of them have a PSA 9 grade or above. One of those rarities sold at auction in 2018 for more than $2.8 million.
1. Honus Wagner 1909/11 T206 (PSA 5 Sold for $3,120,000)
Any baseball card collector should feel like they officially struck gold if they find a card from the 1909/11 T206 set — not that most collectors could afford to buy it. Within that set, the Holy Grail of baseball cards is undoubtedly the card for Honus Wagner. In 2016, a PSA 5 version of the card broke the world record when it sold for $3.12 million. The previous record was also held by the same card — a PSA 8 copy once owned by Wayne Gretzky, which sold in 2007 for $2.8 million.