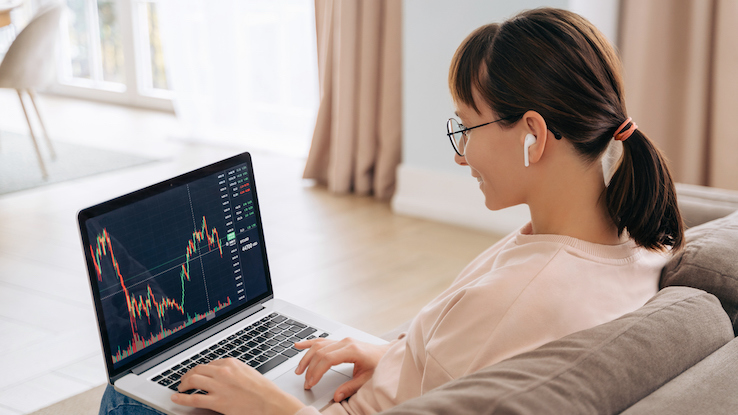 These days, it's probably safe to say that, like most people, you've at least heard of Bitcoin. But that doesn't mean you don't have questions about how this famed cryptocurrency works — and you definitely should if you're thinking of purchasing some. Is it purely for investing, or is it a functional currency? Are Bitcoin and blockchain the same thing? Where does Bitcoin even come from, anyway?
If you're asking questions like these, you're in the right place. Join us for a look at Bitcoin, including what it is, how it works and more, to understand this crypto investment better.
First Things First: What Is Bitcoin?
Bitcoin is the original cryptocurrency. Essentially, it's a decentralized digital currency. It only exists digitally, not physically, and it isn't tied to a traditional banking system or fiat currency like the U.S. dollar. Instead, it's bought and sold directly to interested parties all around the world over online systems. It also isn't backed by any government or physical asset. Instead, its value is based purely on public perception.
Bitcoin is designed to work as an international electronic payment mechanism. One of its creator's goals was to facilitate international transactions while avoiding the complexities of banking systems, currency exchanges and similar restrictive financial processes.
While Bitcoin is increasingly viewed as a viable form of payment, people haven't fully adopted it as such just yet. As a result, they treat it mostly as an investment opportunity. They're essentially betting that the realization of Bitcoin's full potential — adoption among consumers on a worldwide scale — would lead to a value increase in their investment. That doesn't mean you can't spend Bitcoin outright if you own some; it's just that this isn't a widespread option yet.
Bitcoin and Blockchain Basics
While Bitcoin and blockchain technology are tied together, the terms don't refer to the same thing. Bitcoin is the name of a digital currency, while blockchain describes the underlying technology that tracks transactions within the system where the cryptocurrency exists.
Bitcoin was created with a distributed digital ledger concept for transaction verifications and tracking. Like a regular bank ledger, this digital ledger records every transaction made with Bitcoin anywhere, including purchases, sales, trades and newly minted coins. The ledger is publicly accessible and explicitly designed with features that make transaction reversals and hacking as difficult as possible.
In the simplest sense, every transaction is represented by a block. Every block is attached to the transaction before it to show where it came from, creating a chain of blocks — hence the name, blockchain.
Because Bitcoin is decentralized, meaning it isn't controlled or overseen by a financial institution, anyone can potentially take an action that leads to new blocks. However, blockchain also requires verification from other Bitcoin holders to become valid. This ensures that incoming transactions added to the ledger are legitimate.
Performing Transactions With Bitcoin
Bitcoin transactions aren't totally unlike other financial transactions. While they don't involve a bank, Bitcoin transactions do involve a transfer of assets. Typically, these include moving the Bitcoin from one owner's digital wallet to another owner's digital wallet.
Anyone who owns – or wants to own – Bitcoin needs a digital wallet to hold the coins. Every digital wallet is unique and belongs to a single person or entity. Some are stored on private systems, like personal computers. Others are managed by Bitcoin exchanges or investment platforms. Regardless of where people keep them, moving Bitcoin between wallets is as simple as sending them from a wallet to a different wallet's address. In that way, it's almost like sending an email.
Even when you spend Bitcoin while checking out at a participating online retailer, the underlying transfer process remains the same. You're simply moving Bitcoin out of your wallet and into another, even if the checkout process doesn't reflect that.
Within a crypto wallet is a secret piece of information: a private key. In many ways, a private key is a type of digital signature. It acts as proof of a transaction's origin or endpoint, making investing in crypto safely a bit easier for everyone.
The private key also ensures that transactions aren't alterable once they're complete. Again, that's a security mechanism designed to prevent issues like fraud. However, it also means that transactions aren't typically reversible, even if you accidentally send Bitcoin to the wrong wallet or it's stolen through a hack.
How Is Bitcoin Generated?
Bitcoin is generated through a process called mining. Whenever a new block is being added to the chain, a verification process initiates to ensure the block is valid. Typically, that process requires computers to solve complex mathematical equations. To encourage people to commit the computing power necessary to validate the transactions, the completion of a calculation can earn you a reward – newly minted Bitcoin. When this new Bitcoin emerges, it's considered freshly mined.
In total, only 21 million Bitcoins are supposed to come into existence. In early 2022, the process was 90% complete. However, because mining difficulty increases over time, it's expected that the final Bitcoin won't be mined until 2140.
Using and Buying Bitcoin
Bitcoin is largely used as an investment today. People may use the currency to diversify their portfolios, adding cryptocurrency to a mix of stocks, bonds and similar traditional options.
From an investment perspective, it's possible to use Bitcoin in a few ways. First, you can purchase Bitcoin through a cryptocurrency exchange, holding it either in your own wallet or one associated with the platform. Some brokerages also support cryptocurrency investments, as do some payment-processing companies, like PayPal.
If your goal is to invest, you can hold onto the Bitcoin in hopes that its value will increase. If it does, you can maintain the investment or sell it for fiat currency at a profit.
You can also use Bitcoin to make purchases. While Bitcoin payments still aren't widely available, there are some online retailers that support Bitcoin purchases. Overstock.com, Microsoft and Whole Foods all accept Bitcoin, to name a few. However, even if a company doesn't directly accept Bitcoin, that doesn't mean you're entirely out of luck. Bitcoin debit cards and credit cards can make it easier to spend and earn the cryptocurrency.
With the debit cards, you may be able to spend your Bitcoin like fiat currency. The issuing organization removes enough Bitcoin from your account to cover the transaction based on the current value of the coin. With certain cryptocurrency credit cards, you can get a spending limit based on the value of your Bitcoin. They're not unlike a traditional secured credit card; you just use crypto as collateral instead of fiat currency.
Over time, more options may become available. However, even with the limited choices available now, that gives most investors enough flexibility to ensure they can hold their investments or spend their Bitcoin with reasonable ease.