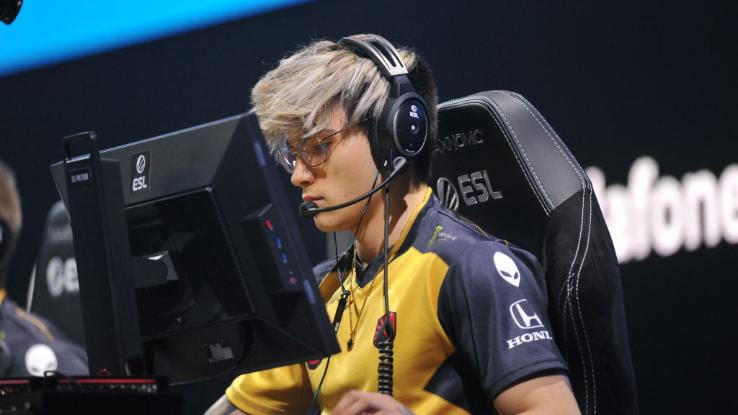 Over the last decade or so, the whole esports industry — that is, competitive video game-playing — has grown tremendously, becoming more mainstream and attracting larger audiences than ever before. In fact, against the odds, the once-niche industry is now a billion-dollar one, not unlike traditional pro sports organizations. 
All of this to say, even if you're not picking up a controller yourself, now might be a great time to get in on the action from an investment standpoint. With this in mind, we're taking a look at some of the best stocks and other esports-centered investments on offer today. 
Why Invest in Esports?
According to a report by NewZoo, the global games market is on track to generate $175.8 billion in 2021. Despite the impressive figure, that's actually a slight year-on-year decline of around -1.1%. However, things look even brighter for 2023, which the report estimates will see the gaming industry rake in $200 billion.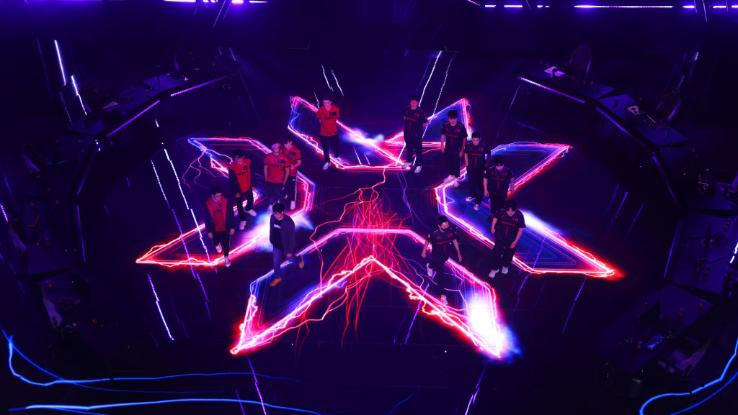 Not only are video games attracting more players, but esports leagues and tournaments are garnering more viewers, too. If you're looking to invest in the growing esports industry, you can choose to hedge your bets on individual stocks or exchange-traded funds (ETFs), which track a certain collection of esports stocks. Here, we've rounded up some must-watch picks when it comes to esports- and video game-related stocks and ETFs. 
Top Esports Stocks to Add to Your Watchlist
While there are a wealth of great stocks that are sure to benefit from the esports boom, a few stand out from their competitors. Here are a few to get you started on your quest for a great investment: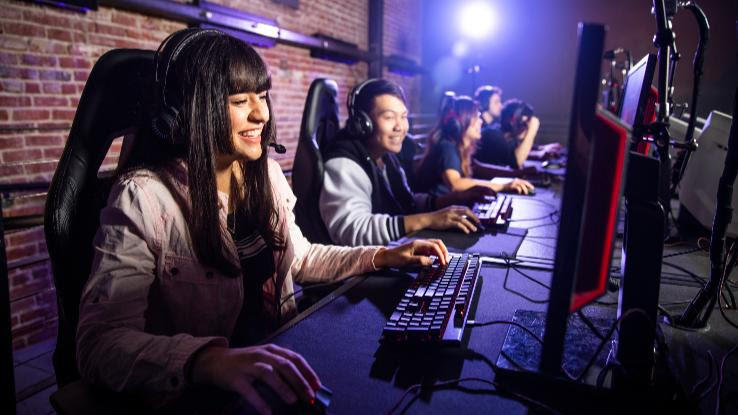 Activision Blizzard (NASDAQ: ATVI):
Activision Blizzard is the company behind popular video games such as Overwatch, Call of Duty, and World of Warcraft. The company has an impressive record when it comes to creating new intellectual properties as well as creating organized leagues. "Our esports vision is to be the most innovative, scalable, and valuable developer of global competitive entertainment," Activision Blizzard notes. However, it's also important to note that Activision Blizzard recently struck an $18 million settlement deal in the wake of allegations of workplace sexual harassment and discrimination against women. While it seems Activision Blizzard is making attempts to reform its "frat boy" culture, the allegations may give investors pause. 
Electronic Arts (NASDAQ: EA):
Electronic Arts (EA) is the company behind franchises like FIFA, Madden and Battlefield as well as titles like Apex Legends. The company has already established several leagues organized around their hit games, putting them at the forefront of the rapidly growing esports industry. Among Electronic Art's strengths is that the company tends to have a large crossover audience — that is, fans of traditional sports, like football, are often drawn to their games. This affords EA some unique opportunities. For example, in 2021, EA conducted the NFL Pro Bowl via Madden, allowing real NFL players to compete virtually.
Logitech (NASDAQ: LOGI):
There's an old adage about those who benefited financially from the gold rush that states the real winners weren't the miners, but the people who sold mining shovels and other equipment. With this in mind, investing in Logitech, a Swiss company that makes professional-grade gaming equipment, emulates this strategy. The big-name esports sponsor has fostered solid relationships with top-notch players and teams. Not to mention, Logitech has a long track record of producing cutting-edge products. In fact, over the past five years, the company has seen an impressive 343.61% price growth.
Top Esports Exchange-Traded Funds (ETFs) to Look Into
Can't decide which individual esport-related stocks to invest in? Luckily, you can always go the exchange-traded fund (ETF) route. For those who aren't up on all the lingo, ETFs are "a basket of securities, shares of which are sold on an exchange." As is the case with mutual fund shares, ETF shares indicate partial ownership of a portfolio, but, like individual stocks, the shares are traded during the day — and prices fluctuate constantly. Often, the stocks grouped into an ETF share a similar thread.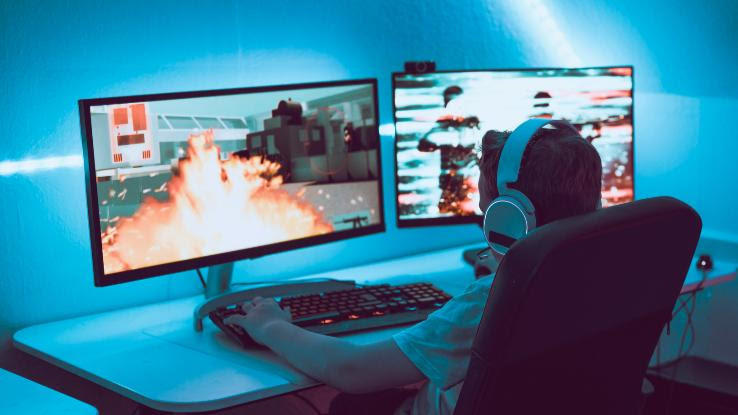 Here are some of the best ETFs that revolve around the performance of top esports stocks:
Global X Video Games & Esports ETF (HERO):
HERO invests in 40 different companies, all of which either publish video games; stream or distribute games or esports content; produce gaming and esports hardware; or operate competitive esports leagues. Some of the top stocks in their basket include Activision Blizzard, Electronic Arts, Nintendo, and Zynga. As you can see, this one is a great way to gain access to a lot of esports- and video game-related investments at a fraction of the price.
VanEck Vectors Video Gaming and Esports (ESPO):
ESPO is another solid ETF choice that tracks an index of stocks involved in esports, game development, and gaming products. Its holdings span stocks from a variety of countries, including the U.S. (33%), Japan (23%), China (18%), and more. Some of their top holdings include Nvidia, Tencent, Advanced Micro Devices, and Sea Ltd. With a nice return of 120.68% over the past five years, ESPO is a great investment in the long-term esports trend.
Roundhill BITKRAFT Esports & Digital Entertainment ETF (NERD):
NERD markets itself as "The First Pure Play Esports ETF." The modified equal-weighted portfolio contains a selection of global companies, including top names in the video game industries. When you invest in NERD, you'll gain exposure to stocks from 12 different countries, though companies from the U.S. and China make up 50% of the holdings. The other half includes companies from Taiwan, Singapore, Sweden, Japan, Switzerland, Ireland, Canada, Germany, France, and South Korea. Among their top holdings, you'll find companies such as Krafton, Activision Blizzard, Tencent, and Corsair.
Other Notable Esports Investments
The esports industry is still rapidly evolving, so it's worth keeping your eye on a wide array of companies involved in the space. Here, we've collected some notable runners-up that are definitely worth adding to your watchlist: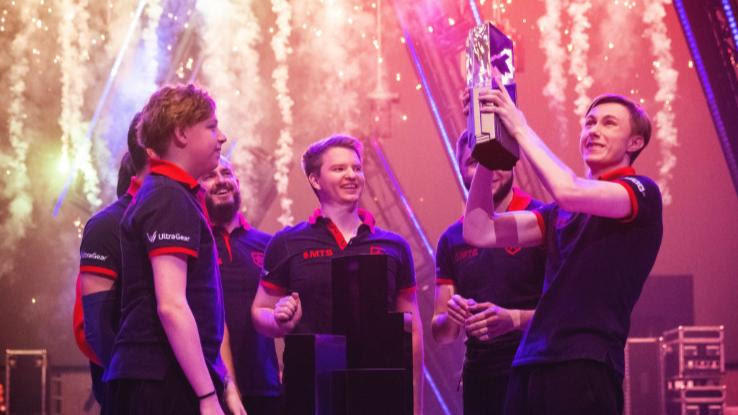 Tencent Holdings (OTC: TCEHY):
Tencent is a major Chinese multinational technology conglomerate holding company with ties to games like League of Legends, Honor of Kings, PlayerUnknown's Battlegrounds, and Fortnite.
Zynga (NASDAQ: ZNGA):
Leading mobile game producer Zynga is behind popular titles such as Words With Friends, CSR Racing, Empires & Puzzles, and Harry Potter: Puzzles & Spells.
Roblox (NYSE: RBLX):
This is the company behind — you guessed it — the Roblox platform.
Take-Two Interactive (NASDAQ: TTWO​):
Take-Two Interactive owns two major publishing labels, Rockstar Games, which makes the Grand Theft Auto series, and 2K, which focuses on yearly sports titles like NBA 2K and WWE 2K.