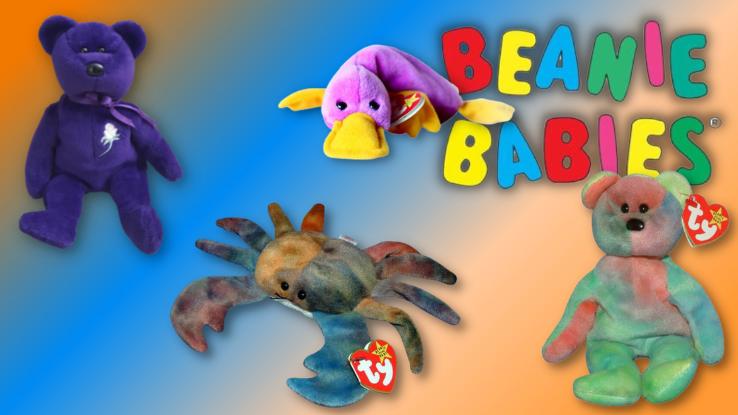 H. Ty Warner, the creator of the Beanie Baby and founder of Ty, Inc., became a billionaire in the 1990s due to the public's sheer fascination with his lineup of plush toys. The first Beanie Babies to hit shelves — a dog, a bear and a pig — were released in 1993. So, what set them apart from toys of the 90s? Each toy came with a birthdate, poem and name inscribed on the brand's signature red, heart-shaped tag.
Something about these toys struck a chord with both kids and collectors alike. By the mid-90s, the Beanie Baby craze was in full effect. Now, over 25 years later, the company has made over 2,000 different types of Beanie Babies — and some of them are worth a great deal of money even now.
Beanie Babies Ruled the '90s
Warner's series of collectible animals became so sought-after in the mid-to-late-'90s that collectors were forking out thousands of dollars to get their hands on "retired" plushes — that is, ones that weren't being produced for the general public any longer. So, what contributed to this surge in value and the retirement of so many plushes? Ty's warehouse of 370,000 square feet was hoarding over $100 million worth of product. This wasn't because demand was low; in fact, the creator randomly pulled certain animals from the production line. In turn, this created substantial rareness in the market and an increase in demand among both casual and avid collectors alike.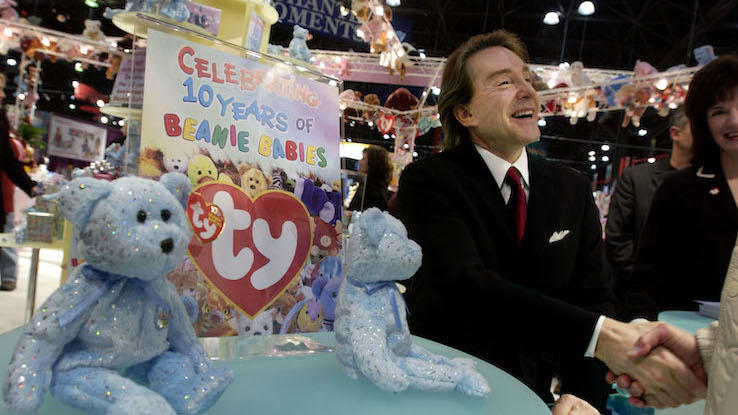 The result meant that passionate Beanie Baby buyers, a lot of whom were adults, ended up spending thousands of dollars in some cases to get their hands on rare Beanie Babies. This was, of course, a significant price jump from the original retail price of $5. By the end of the '90s, the craze began to die down. To commemorate the end of Beanie Baby production, Ty released a final plush, a bear called The End, in 1999.
What Makes a Beanie Baby Rare or Valuable?
Today, collectors are still searching for some of the most elusive and valuable Beanie Babies — and, to do so, they're continuing to spend quite a bit. So, what's so special about owning a rare Beanie Baby? The sheer exclusivity, of having something so rare in one's collection, might be the main reason to snag one.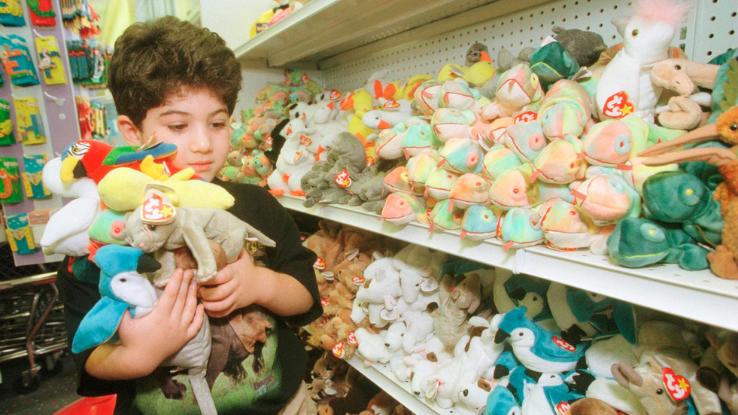 It's worth noting that some of the rarest Beanie Babies are most valuable by themselves, while others garner a high price if they are part of a set or collection (like the collection of Teenie Beanie Boos found in Happy Meals). Much like other collectible items such as baseball cards or vinyl records, other variables that influence the value of a Beanie Baby include the amount produced; misprints on tags or on the plushes themselves; the type of pellet filling; and incorrect or variant colors or designs.
10 of the Rarest and Most Valuable Beanie Babies
There's no perfect recipe for determining the "real" value of Beanie Babies. Sometimes, prices are driven up on auction sites like eBay, while private sellers or collectors may try to find a more standardized price. Still, we've rounded up nine of the most valuable Beanie Babies out there.
Garcia the Bear
Unofficially named after late Grateful Dead lead guitarist and singer Jerry Garcia, Garcia the bear rocks a tie-dye look that's not unlike the also highly sought-after Peace Bear. Although Garcia hasn't been known to rake in as much money as other celebrity-aligned bears, this Beanie Baby goes for several hundred dollars on average. However, some of the Garcias that were made first — before mass production — or that have tag misprints reel in much more. For example, this ultra rare Garcia is selling for an impressive $10,000 on Etsy.
Valentina the Bear
Some versions of Valentina the Bear featured misspelled information on the tag, while others were made with different pellets. In some cases, a few Valentinas have different colored noses. One version, which included all of these errors, sold for over $42,000 at auction. Another was listed on eBay for over $19,000. Even if you have one in perfect condition with no misprints, it could still fetch you over $1,000.
Lefty the Donkey and Righty the Elephant
What makes this pair so valuable is the fact that a technician in the United States had Hillary Clinton sign them for his two daughters, which has made them of particular interest to die-hard collectors. They were released a few years before the 2008 American Presidential election, with Lefty the Donkey representing the Democratic Party and Righty the Elephant representing the Republican Party.
Piccadilly Attic (Piccadilly the Clown)
Two different versions of this rare Beanie Baby were made back in the '90s: one has a blue-and-green outfit and one wears a rainbow costume. A mint-condition version with the blue-and-green outfit and an Azalea tag was listed on eBay for $249,000. Others have sold for anywhere from $10 to over $1,000.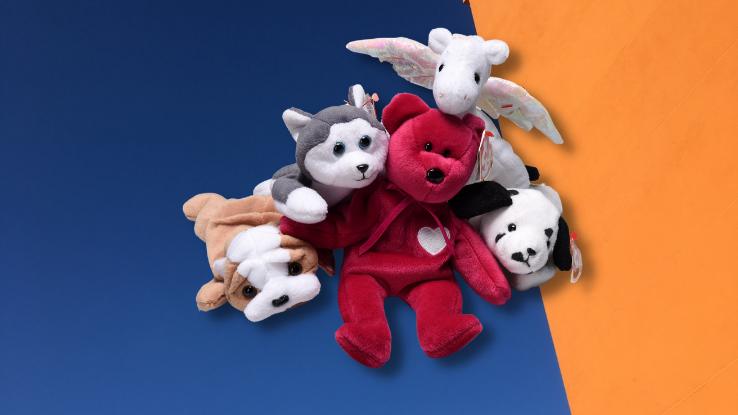 Bubbles the Fish
First released in 1996, Bubbles went through a few modifications and misprints that ranged from incorrectly colored threads to misprinted tags. These errors have helped the fish become a rare and valuable Beanie Baby, and, because it was only on the market for two years (between 1995 and 1997), having a particular version of Bubbles the Fish could make you a substantial amount. For example, one version of Bubbles is currently being listed by a seller for over $30,000.
Bernie the St. Bernard
If you have a Bernie the St. Bernard that has a double tag, then you may be sitting on one of the more valuable Beanie Babies out there. An error during production meant that some versions included a two tags (for the price of one). One current listing asserts that this erroneous Bernie is worth $1,000.
Claude the Crab
One of the cutest Beanie Babies out there, Claude the Crab is worth a surprising amount. This tie-dyed plush can be worth a couple hundred dollars on average, but rare, early version of Claude with misprinted tags can reel in over $4,000. The key takeaway? The more errors the better.
Hippity the Rabbit
Hippity is a mint-green rabbit with black button eyes, pale pink whiskers, and a peach-colored nose. Several different mistakes during production are what make Hippity so valuable. Eyes that don't line up and other facial defects have made it an important Beanie Baby to add to one's collection. Different iterations of the rabbit have been listed for anywhere from $10,000 to $50,000.
Princess the Bear
Princess the Bear was made in honor of the late Diana, Princess of Wales. This purple bear features a white rose on its chest, and, without a doubt, every collector wants one in their collection. The first edition of Princess the Bear has varied in price depending on overall quality, but it's a must-have, so think twice before you sell it. Currently, Princess goes for around $50,000 on eBay.
Millennium the Bear
1999 was a fascinating year; the Matrix (1999) became an international phenomenon, Nelson Mandela's tenure as the President of South Africa came to an end, and the "Y2K scare" graduated from a silly rumor to a global concern. Enter Millennium the Bear; this Beanie Baby dropped on January 1, 1999. How much is the Millennium Beanie Baby worth? Prices vary, but we've seen as much as $30,000 on Etsy.