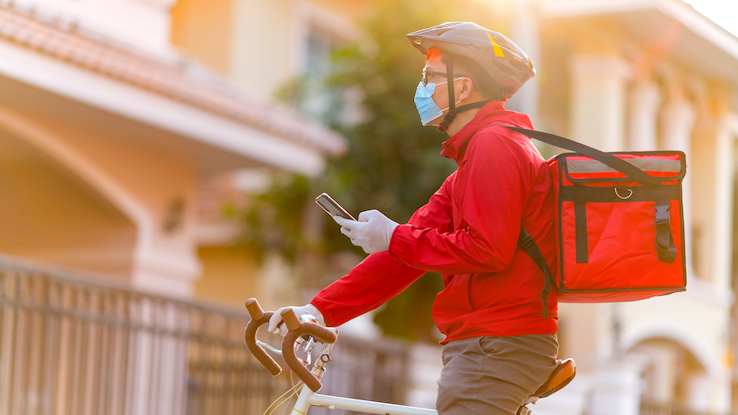 Apps have become key parts of our modern life. We can do just about everything with them, from meeting with our doctors virtually to staying organized at work to paying bills on the go. These days, we can even use apps to earn the bulk of our income, which is what plenty of DoorDash drivers are doing to make ends meet — or earn a bit of extra income without taking on another full-time job.
Like Uber Eats and Postmates, DoorDash is an app-based food-delivery service that offers flexible, work-when-you-want hours. It's an easy way to earn extra cash on top of your regular job just by having a roadworthy vehicle and a clean driving record. But while these elements of the job are certainly appealing, DoorDash isn't for everyone. Find out more about DoorDash's work opportunities to decide whether signing up as a driver is right for you.
How to Drive for DoorDash
DoorDash is an app-based delivery service that people use to place orders for food from local restaurants. Dashers (drivers) can choose orders to deliver; upon selection, they retrieve an order from a restaurant and drop it off at the location of the person who placed it. The DoorDash service is available in 7,000 cities across the U.S, Canada and Australia.
DoorDash allows you to be your own boss. When you sign up as a Dasher, you're in control of how many hours you work each day, which orders you deliver and ultimately how much money you earn. You can deliver locally or as far out as you're willing to travel, within reason. Customers can give Dashers a rating between one and five stars, so your performance can dictate your rating. If it drops low enough, DoorDash can deactivate your account and end your ability to earn money from deliveries.
In order to become a Dasher, you must have access to a car and a smartphone and be 18 years of age or over. If you meet the eligibility criteria, the application process is quick and simple, and you can complete it online. It shouldn't take more than 10 minutes if everything is in order and your details check out. The steps below outline the process.
The first step is to create a profile on the DoorDash website and add some general information about yourself.
A link is provided to continue the signup process once this information has passed checks. If you complete the first step successfully, you'll get a welcome notification allowing you to move on to the next stage of the application process.
The next step is to give details about the car you have access to. You must select the vehicle model you own. Once you have found your vehicle, you need to fill in the other car details.
Then, you need to agree to have a general background check performed on you and the vehicle you've registered with DoorDash. This looks for driving offenses and other personal information and can determine your eligibility to drive for the service.
If you clear the background checks and meet the company's expectations, you're ready to add your bank account details to your profile so you can get paid.
Finally, you need to download the DoorDash app to your smartphone. This completes your application, and you'll be ready to complete your first delivery. You'll also get your welcome kit within 10 business days.
How Much Can You Earn as a DoorDash Driver?
Because of the flexibility in driving for DoorDash, the amount every Dasher earns is up to the individual. Depending on your schedule and other commitments, you can work part-time or full-time. On average, a DoorDash driver can earn up to $25 per hour. If you become a full-time Dasher working 40 or more hours per week, you could earn $800 to $1,000 per week — the interval at which you'll usually get paid.
DoorDash offers you the potential to make a living by delivering food to the public. However, this is highly dependent on demand, and quiet spells where you won't be making deliveries are common. Lunch and dinner hours are typically the most busy, so if you're unable to work during those periods, you may not earn as much as you expect.
If you want to get paid sooner than weekly, you can use the Fast Pay feature. To use this system, you must have a debit card and pay a transfer fee of $1.99. DasherDirect is another option, and this involves having all your earnings deposited onto a Visa Business Card instead.
What Are Some of the Pros and Cons of Driving for DoorDash?
Overall, many people enjoy DoorDashing for the work-life balance, flexible hours, easy access to funds and other benefits. However, there are a few downsides to consider before you make the commitment. Weigh these pros and cons as you're deciding:
Pros
You can earn a lot if you're willing to put in the hours.
You have easy access to the money you earn, which can make budgeting easier.
You can choose when you do or don't want to work, which helps you foster a better work-life balance or run your own side gig.
Cons
Working as a Dasher can involve hours spent sitting in your car and driving in traffic, which can put wear and tear on your car (and possibly your stress levels).
If there are no local food deliveries in your area, you have to drive to a hotspot full of restaurants that need food delivered to customers.
The base pay of certain deliveries can be on the low side, which means many Dashers depend on tips to make jobs worthwhile.
Before deciding if DoorDash is for you, visit the DoorDash website to learn more. This will answer questions about how you can expect to start Dashing. In addition, reading independent reviews about DoorDash from other Dashers can help you understand how to deliver DoorDash services and how to use DoorDash to your advantage. Ultimately, it's up to you to decide whether driving for DoorDash will be the right decision for your weekly schedule and your job goals.