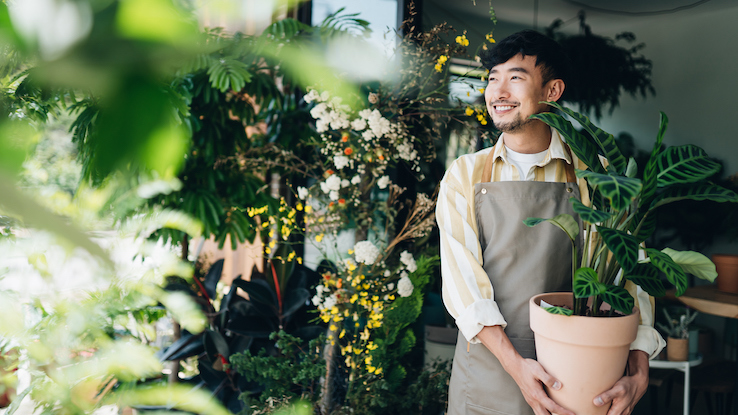 2021 was a record-setting year for small businesses. According to statistics from the U.S. Census Bureau, more than 5.4 million new business applications were filed that year — and the trend is only set to continue. That might be due in part to the availability of grants and other funding opportunities that are becoming increasingly accessible for small businesses.
The U.S. government and organizations at national and state levels have played key roles in providing funds small businesses owners can use to get their businesses up and running — and even stay running. Aside from their availability, one of the great things about these grants is that you don't need to pay back the funds, as long as you meet certain requirements. If you're seeking financial opportunities for starting or growing your small business, consider taking advantage of one of the top grant options below.
The Rural Innovation Stronger Economy Grant, RISE
Grant Amount: $500,000 – $2,000,000
Many businesses in rural America rarely get a slice of investments from venture capitalists, but the Rural Innovation Stronger Economy (RISE) Grant came to level the playing field. Some rural businesses may face difficulties in meeting their daily expenses, and new owners often depend on loan options to get started. By offering grants to businesses set up in rural regions, RISE aims to make the startup process smoother for new rural businesses and increase the number of available high-paying jobs in rural areas.
RISE is a people-centered grant. To qualify for it, here are some of the characteristics that your business needs to meet:
Be a business serving a small rural region that can closely collaborate with partners.
Be a business that can help rural communities recover from the effects of Covid-19.
Ensure your business enables rural residents to access rural development programs and their benefits.
Have a business structure that strives to reduce climate pollution.
This grant also focuses on the priorities of the USDA Rural Development expectations. Be sure to read all the details about what's expected from your organization before applying.
Small Business Innovation Research Grant
Grant amount: $150,000-$1,000,000
If you have a revolutionary tech concept and you believe it has the potential to grow into a successful business — but need the funds to make it happen — the Small Business Innovation Research (SBIR) Grant is a potential funding option for your new business.
SBIR is a federal-based grant that funds tech-preneurs to run research in a field that interests them. It then allows them to incorporate the research findings into a business model and commercialize it. This grant provides opportunities for tech-based enterprises to identify, study and venture into new markets with minimal risk. To qualify for this grant:
You must have a for-profit business set up and registered in the United States.
At least 50% of the business must be owned by a U.S. citizen or by a documented immigrant living in the U.S.
The business must have a maximum of 500 employees.
Black Founder Start-Up Grant
Grant amount: $5,000- $10,000
The Black Founder Start-Up Grant was initially developed to support Black women entrepreneurs, who rarely get more than .5% of venture capital funding. This grant's primary purpose is to offer Black women and nonbinary entrepreneurs access to capital they can use to diversify their investments. This grant is the brainchild of the SoGal Foundation and has multiple partners, including bluemercury, Winky Lux, Twilio, twelveNYC and Walmart.org's Center for Racial Equity.
Beneficiaries of this fund also get lifetime access to SoGal Ventures and the SoGal Foundation. To become a Black Founder Start-Up Grant awardee, you need to meet the requirements below:
Be a Black or mixed-race woman or nonbinary entrepreneur.
Have a legally registered business in the U.S.
Have a plan to seek funding that you'll use to scale your business.
Have a high-impact or highly scalable business idea.
Small Business Relief Initiative Grant
Grant amount: $500
GoFundMe is also at the frontline in helping small businesses get a headstart. Through a partnership with Intuit QuickBooks, GoDaddy, Yelp and Bill.com, GoFundMe established the Small Business Relief Initiative Grant, which provides interesting grants for startups.
Unlike many other grants to which the business owner applies and then receives money if they qualify, GoFundMe challenges entrepreneurs to seek $500 of funding through their GoFundMe.org account. When they accomplish this and meet the qualification criteria, they get an additional $500 donated by the program's partners. Here are the requirements you need to become a Small Business Relief Initiative Grant beneficiary:
Provide proof that your business was negatively affected by Covid-19.
Raise $500 for your company.
Fill in a form to confirm your company details.
Ensure your business isn't nationally dominant in its business niche.
Minority Business Development Agency
The targeted grant from the U.S. Department of Commerce's Minority Business Development Agency (MBDA) helps entrepreneurs from minoritized groups venture into new markets and grow the size of their business. Applications for this grant are available at the local level through your area's MBDA office. These offices are spread out across the country, so check the MBDA website to find one near you. The requirements to qualify for this grant are available here.
FedEx Small Business Grant Contest
Grant amount: $15,000-$50,000
The FedEx Small Business Grant contest is another interesting way to find funding for your small business. This grant targets businesses that want to grow and selects 12 lucky companies to receive the grant money.
To determine which businesses qualify, FedEx runs a small challenge that requires business owners to submit photos, a one-minute video and a logo that explains your business' personality. This grant is a fun way for businesses to expand and reach more clients, and it's also not too difficult to apply for. The qualification criteria for the FedEx Grant contest include:
Having a valid nine-digit FedEx shipping account number
Having a company that has operated for more than one year within the United States or District of Columbia at the time of application
Having a maximum of 99 employees in your company
Small business grants are a cost-effective way to get funding for your small business. Unlike other funding options that may require you to pay interest or give a stake of your company to investors, grants are entirely free — all you need to do is make sure you've achieved the goal you had for getting the funds.