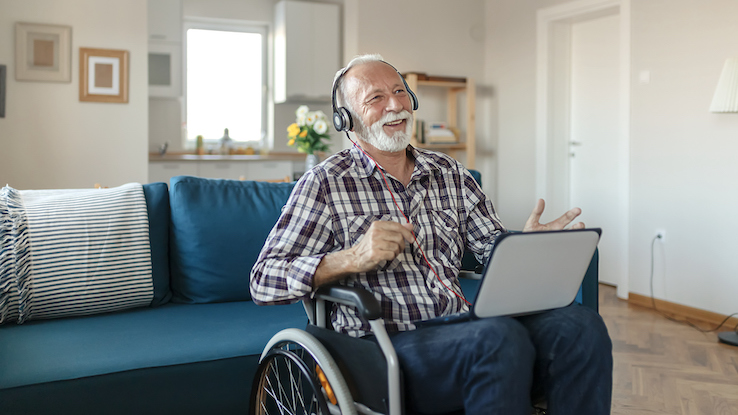 If you need assistance getting around or taking care of your daily needs due to a health condition, you may find it helpful to hire a professional carer to come to your home. But even if a professional carer's services aren't the right option for you, you could still find yourself experiencing financial difficulties while living with a disability, mental health condition or long-term illness. To get yourself in a more secure place financially, you may be eligible to claim Personal Independence Payments (PIP).
Personal Independence Payments are part of a UK government program to help adults living with disabilities afford the resources they need to live safely at home. And, it could help you or a loved one cover the costs of daily living more comfortably. To determine if PIP might be right for your needs, learn more about how the program works, what the eligibility requirements are and how to submit an application.
What Is a Personal Independence Payment?
Personal Independence Payments are a form of supplemental government benefits available to adults living with physical and mental disabilities in the UK. PIP helps fill in the financial gaps that other government benefits sometimes leave for those living with disabilities. With few exceptions, eligibility for PIP isn't impacted by other benefits you receive, and there are no taxes imposed on the payments.
There are two types of PIP, and you can receive one or both types depending on your health status. The first part of PIP involves daily living, including tasks like keeping your home clean, paying bills and preparing meals for yourself. The second part of PIP deals with mobility, including your ability to move around in your home and your ability to get yourself out of your home safely. When you apply for PIP, the Department for Work and Pensions conducts a health assessment to determine whether you need one or both types of PIP.
Who Is Eligible for Personal Independence Payments?
People living with disabilities who are at least 16 years old are eligible for PIP. Your disability must impact your ability to safely complete activities of daily living, such as working inside your home or going out for medical appointments and getting groceries on your own. You can receive PIP while receiving other government benefits, working and maintaining your own savings account.
PIP is open to most permanent residents of the UK, with a few exceptions for areas that have alternative programs. People who don't live in the UK can receive PIP if they live in certain countries or live abroad because they're an active servicemember or a relative of one.
To meet PIP eligibility requirements, your disability should be long-term and expected to significantly impact your health for a year or more. For example, you may be disabled due to breaking a leg. This may stop you from working, and you may require extensive help around your home to complete daily tasks. However, your doctor says you'll be mobile and fully recovered in six months. Because this disability will last for less than a year, you'll need to apply for another form of assistance. If your recovery takes longer than a year, you could be eligible for PIP.
Some benefits affect PIP payments. If you're eligible to receive State Pension, you can only get PIP if you're filing a new claim and got PIP before becoming eligible for State Pension. If you get Armed Forces Independence Payments, you're ineligible to receive PIP as well. If you receive a Constant Attendance Allowance or War Pensioner's Mobility Supplement, you're still eligible for PIP, but you may receive a smaller payment.
How to Apply for Personal Independence Payments
You can start the PIP application process by calling the PIP New Claims Phone Line at 0800 917 2222. You can apply by phone, and you can also request that another person you trust is connected to the call to help you with your application. Before your call, gather important information like doctors' names, details about your health conditions, your National Insurance Number, dates of recent hospitalization and your banking information. This information makes up the PIP1 form.
The center accepts calls from 8 a.m. to 5 p.m. Monday through Friday. There are additional numbers and methods of contact you can use if you're hard of hearing, communicate through sign language or live abroad.
If you don't prefer using the phone, you can mail in a letter requesting an application for PIP to the following address:
Personal Independence Payment New Claims
Post Handling Site B
Wolverhampton
WV99 1AH
If your need for PIP is urgent, remember that applications by mail can take longer to receive and process. Whichever way you apply, you'll need to complete a form called How Your Disability Affects You. You can complete this form online or on paper. Citizens Advice provides step-by-step guidance for answering each question. If necessary, there may be a second phase of your application process that involves doing a health assessment. After this, you'll receive a decision letter outlining the payments you'll receive or explaining why you're not eligible.
How to Calculate Personal Independence Payments
PIP amounts are based on the level of help you need. Generally, people with more severe disabilities receive larger payments. Depending on your needs, you can receive payments for both daily living and mobility assistance or just one or the other.
Daily living payments range from £61.85 to £92.40 per week. Mobility payments range from £24.45 to £64.50 per week. Each time you file a PIP claim, you'll receive a decision letter that tells you which types of PIP payments you'll receive and how much you'll receive each week for each type of payment. PIP comes once every four weeks, usually on the same day of the week, except on bank holidays. You can use the details in your decision letter to determine how much you'll receive each month.
The decision letter also explains how long you'll receive PIP. Even if you have a permanent disability, you may need to file a new claim for PIP payments, possibly receiving another health assessment at a future date. You can request a new assessment if there's a major change in your health status. If you've received PIP in the past and you need the resource again, you can simply file a new claim.
PIP can be an important lifeline to help adults living with disabilities maintain independence at home. To determine your eligibility, contact the New Claims Phone Line and learn more.