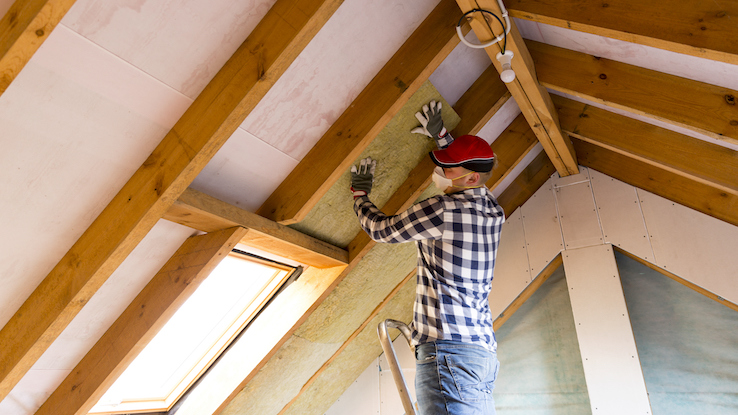 If you're a homeowner in the UK, there's a good chance you could benefit from the government's Loft Insulation Scheme. The scheme is designed to help homeowners save money on their energy bills, and it's open to all homeowners regardless of income or housing type. 
In this article, we'll take a closer look at the eligibility criteria for the Loft Insulation Scheme, as well as the average savings that can be expected. We'll also provide tips on getting started with your own insulation project and more. If you're interested in learning more about this scheme, keep reading!
What Is the Insulation Grant?
The free insulation grant is a project by the government to help people manage fuel poverty. The project runs across the United Kingdom, and some of the biggest utility companies in the country help fund it. The free insulation program grants have been made possible through the ECO (Energy Company Obligation) scheme.
Citizens of England, Scotland and Wales can apply for the FPL insulation program to help improve their energy efficiency. Apart from loft insulation, you can also apply for an internal wall cavity, an external wall cavity and a roof insulation grant. Since it is a grant, you are not expected to pay back the money used on the project. Once you meet the eligibility criteria, you can apply. Upon approval, a professional contractor will be sent to your residence to do the work.
Who Is Eligible for the Insulation Grant?
Eligibility for the government loft insulation scheme begins with your location. Your property must be in the United Kingdom. In addition, someone living on the property needs to receive one of the following benefits:
Child Benefit
Child Tax Credit
Universal Credit
Housing Benefits
Working Tax Credit
Pension Credit Savings Account
Personal Independence Payment
Warm Home Discount Scheme Rebate
Income Support for Job Seekers JSA)
Income-Based Employment Support Allowance
Income-Related Employment and Support Allowance (ESA)
When a person on the property receives any of these benefits, they can send an application to receive up to 100% of the grant.
If you are a renter, you need permission from your landlord to carry out any form of renovation, including loft insulation. Local authorities can also help by referring other people in their communities who they deem fit for the program.
Why Is Loft Insulation Important?
For many families in the UK, heating costs are among the top three or four monthly expenses. Loft insulation is important because it helps to keep heat in your home. Insulating your loft can reduce heat loss through the ceilings and into the loft space. This will help to keep your home warmer in the winter and cooler in the summer.
Many people believe that loft insulation is only necessary for areas where it gets very cold in the winter. However, even in a warm climate, insulation can save you money on your energy bills. Heat rises, so if your attic space is not adequately insulated, hot air can escape through the ceiling and into the attic.
There are many benefits to insulating your loft, including:
Lowering your energy bills: Insulating your loft can help to keep your home warm in the winter and cool in the summer. This can lead to lower energy bills and increased savings.
Improving the comfort of your home: A well-insulated home will be more comfortable to live in. It will be easier to regulate the temperature, and you worry less about drafts or cold spots.
Reducing noise: A properly insulated loft can help to reduce noise from outside and between rooms in your home.
Preventing condensation: Condensation can be a serious problem in uninsulated homes. It can lead to mold and mildew, which can cause health problems. Insulating your loft can help to prevent condensation.
Adding value to your home: A well-insulated home will be more energy-efficient and comfortable to live in. This can increase the value of your home.
How Can I Apply for the Insulation Grant?
To apply for an insulation grant, fill out an application. The application asks for information about your home, including its size, the type of insulation you need and the location of your home. You also need proof of income and a list of any energy-saving measures you have taken in the past.
After you have submitted your application, a representative from the grant program will contact you. They will review your application and determine your eligibility for the grant. They will send you a check for the grant amount if you are eligible.
It is important to remember that the insulation grant is not a freebie. You will still need to pay for the cost of materials and installation. However, the grant can help you save money on your energy bills each month. In some cases, the grant can even cover the entire cost of insulating your home.
Contact your local government office if you are considering applying for an insulation grant. They can provide information about the program and help you complete the necessary paperwork. You can also find information online about the program and how to apply. To avoid fraud and to find the best site to apply through, OFGEM (Office of Gas and Electricity Markets) provides a list of approved websites you can use. Depending on your preference, you can also contact them by phone or email.
Is the Loft Insurance Grant Worth It?
The grant can help you reduce the amount of money you spend on your energy bills. With the money you have saved, you can spend it on something else within your household. As the world fights climate change, managing energy efficiency is the right step toward an eco-conscious home. With a warm loft, you can convert it into a habitable space for you or maybe even rent it out. And when the costs of running your home start to decline, the loft insulation grant is the gift that keeps giving.