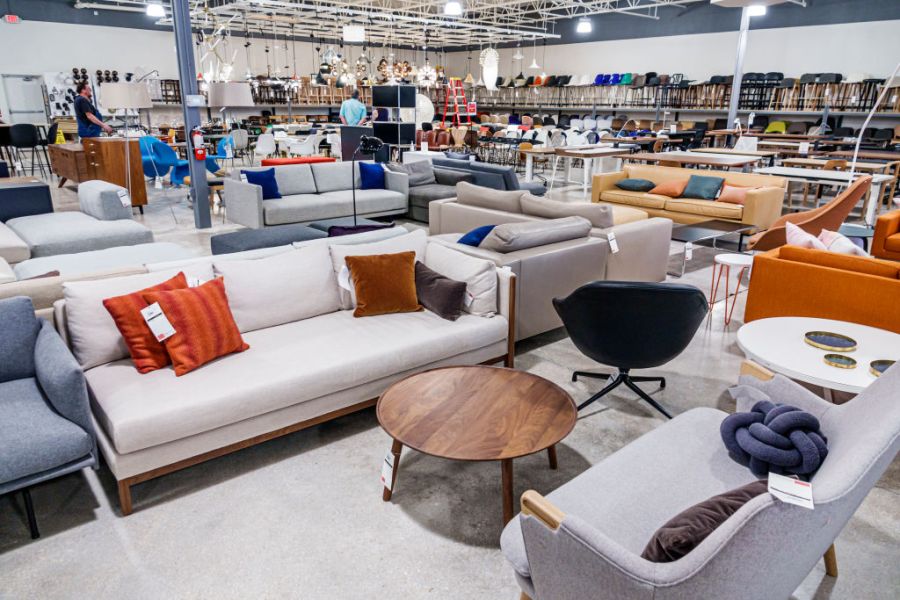 Ashley Furniture is a great brand to choose from if you are looking for affordable furniture that is of good quality. You can often find great deals on a variety of products, from kitchen tables to bedroom sets. A great benefit is that you likely have a location close to you, as Ashley is one of the most common names in household furniture throughout the country. Instead of hoping something looks nice and is comfortable when shopping online, you can visit your closest store and talk to a sales representative. 
Furniture from Ashley is made from a variety of upholstery, wood, glass, metal, and paint. If you have preferences, make sure to read the description of the item before purchasing so you know exactly what you are getting. As with any company, the higher the quality of the materials, the more expensive the furniture will be.
What is Ashley Furniture?
Ashley Furniture is one of the most well-known furniture brands that offer affordable luxury. You have likely heard of the brand, as they have over 1,000 retail stores throughout the United States and also have locations in 60 countries. The brand is known for producing affordable and durable furniture that is made to last. Ashley Furniture is owned by Ron and Todd Wanek, who are father and son. 
Ashley Furniture has its own nonprofit called Hope to Dream, which provides mattresses, bed frames, bedding, and a pillow to children in need. They have donated over 100,000 mattresses to children throughout the United States intending to combat the consequences of not getting enough sleep.
Where is Ashley Furniture Made?
Ashley Furniture has manufacturers throughout the United States and the world. They currently have manufacturing facilities and distribution facilities in Wisconsin, Mississippi, Pennsylvania, North Carolina, Florida, Vietnam, and China. The company is currently headquartered in Arcadia, Wisconsin following the merger of Arcadia Furniture and Ashley Furniture Corporation in 1982. They are also the largest furniture retailer in the United States. Currently, it is reported that less than 10% of furniture production occurs in China, which is great news for those that want to support labor in the United States.
Does Ashley Furniture Have Layaway Plans?
It is up to the individual Ashley Homestore on whether they offer layaway plans. However, you can always finance your purchase by getting an Ashley Advantage Credit Card. Financing options are great for those moving into new apartments or homes that do not currently have much furniture. Instead of having to pay thousands of dollars for a bedroom, kitchen, living room, and outdoor furniture with cash, you can furnish your entire home and pay for it monthly. In addition to layaway plans, you can rest easy that you got the best deal through price matching. If you find a lower price from an online retailer on an identical, in-stock product, tell your local store and they will match it. Make sure to read the terms and conditions when price matching.