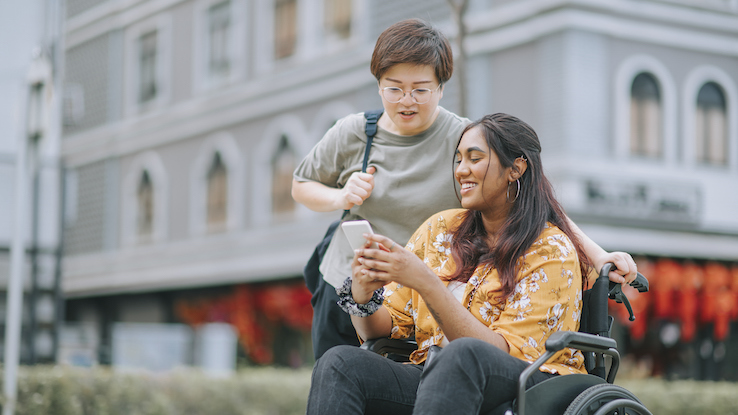 As our typical everyday tasks — from shopping for groceries to finishing homework — become more digitized, having a cell phone and reliable internet access is no longer a luxury. These days, internet access is a basic necessity that keeps us connected to each other and helps us perform essential tasks. Whether you might need to apply for a job, pay bills or access information about your health plan, you could face some hurdles if you don't have a secure internet connection.
Internet service can get expensive, though, and you could be limited in your options depending on where you live. The Federal Lifeline Program is a national initiative that addresses the digital needs of people who don't have the financial resources to access the internet and communications services they need. To decide if signing up for the program is right for you, find out more about how it works, what its eligibility requirements are and how to apply.
What Is the Federal Lifeline Program?
The Federal Lifeline Program began in 1985 and has been evolving as emerging technologies have become more widely available — and more essential to managing a household. When it first started, the program gave people discounted access to landline phone service based on their economic needs. Later, the program expanded to offer discounted access to wireless phone service and home Wi-Fi connections.
Under the Lifeline Program's current standards, you can get a monthly discount of $9.25 for any phone and internet service bill. If you only have phone service, your monthly discount is $5.25. If you live on recognized Tribal Lands, you can receive a monthly discount of $34.25.
How Does the Federal Lifeline Program Work?
The Federal Lifeline Program has income-based eligibility standards. If you meet these requirements, you can complete an application for the benefit. Once your application is approved, the program provides you with a list of phone and internet providers approved to offer services to Lifeline Program participants in your state. You can choose any of the approved providers.
The provider then schedules a time to set up your home's phone or internet service. Each month, you'll see a discount on your telecommunications bill reflecting the discount you qualify for under the Lifeline Program. You're responsible for paying the remaining bill, and you're still subject to the provider's policies about payments and other account requirements.
To continue receiving the Lifeline Program, you recertify annually to prove that your income hasn't exceeded the program's standards. As long as you still qualify based on your income and recertify each year, you keep your discount from the Lifeline Program. If you don't recertify or your household starts earning more than the income threshold to qualify, you won't receive the discount.
Who Is Eligible for the Federal Lifeline Program?
The Federal Lifeline Program is designed to help low-income households that might be at risk of losing their phone and internet service. The program is based on your household income, and there can only be one Lifeline recipient in your household. In other words, members of a single home aren't eligible to use the program to purchase multiple phone and internet bundles.
If you're enrolled in specific government benefit programs, you may automatically qualify for the Federal Lifeline Program. If you receive SNAP, you're eligible for savings on your phone or internet bill. If you receive Medicaid or have housing vouchers, you also qualify. This standard also applies if you receive veterans' benefits or monthly benefits through income-based tribal programs.
Social workers who help people apply and manage their benefits under these programs often encourage them to apply for the Federal Lifeline Program. Some states developed a streamlined process that automatically applies people who qualify for one type of benefit to other programs, such as the Lifeline Program.
If you don't qualify based on the eligibility requirements above, you could still qualify based on your household income. To be eligible for the Lifeline Program, you can have an annual household income of no more than 135% of the Federal Poverty Guideline. This is an annual household income limit that applies to Washington, D.C., and all U.S. States except Hawaii and Alaska. Those states have a unique poverty guideline due to their high cost of living.
For a family of four living in the continental U.S., the Federal Poverty Guideline is $27,750. That means the annual household income for a family of four can be up to $37,462.50 (135% of $27,750) for the family to qualify for assistance under the Federal Lifeline Program.
Advantages and Disadvantages of the Federal Lifeline Program
One advantage of the Lifeline Program is that there are minimum standards for the service to meet, and the FCC and USAC vet the service providers. This adds a layer of protection for those who use the program.
There are some detractors of the Lifeline Program, including members of Congress. They feel that minute allotments and low broadband standards are insufficient for modern use. During the COVID-19 crisis, when many doctors switched to telemedicine appointments, some were unable to hold long sessions with patients who relied on the Lifeline Program.
Some critics assert that faster internet speeds and unlimited minutes could allow some of the nation's households to do more online, saving on transportation costs. Additionally, a monthly discount may not be enough to make phone and internet service affordable or budget friendly for households in severe economic need. However, other federal, state and regional programs are available to provide more assistance.
How to Apply for the Federal Lifeline Program
Because the Lifeline Program is for individuals and households that may currently lack reliable access to phone or internet service, there are various methods you can use to apply. You can apply and recertify online using the Lifeline National Verifier. There's also a printable application you can fill out by hand and mail to the National Verifier address for your state. Depending on where you live, the phone or internet providers that participate in the program may have representatives in-store and over the phone who can help you with an application. You can check to see if there are stores near you on the USAC portal. Your local Department of Social Services is also an excellent resource for finding an application or getting help sending it in.