Looking to cash in on some coins you have around the house? Depending on a few different factors, they might actually be worth more than face value. But how can you know for sure? Join us for a crash course in how to sell coins of both the everyday and rare variety. We'll clue you in on everything from how to turn your change jar into cash to where to sell valuable coins you're interested in putting on the market.  
Where to Sell Regular Face-Value Coins
If you've got a loose change jar that you've been saving for a rainy day, there are a couple of easy ways to turn those coins into cash. The first possible option is simply cashing in your coins at your bank or credit union. Just be sure to look into any conditions that may apply. Some banks, for example, require that you bring them the coins in rolls to make the counting process easier. If you want to get the full value of your coins, however, this is a good way to go. 
The next best option is a coin kiosk, such as Coinstar. These machines make it easy to cash in your coins — you only need to pour them onto the kiosk's tray and watch as the machine adds up their value. When it's done, you can typically get their paper cash equivalent in several ways: 
Have the machine print out a cash voucher you can redeem at the store's customer service desk, where the kiosk is located. You may need to pay a fee to use this option.
Cash in for an eGift card. This is a great option because it normally doesn't come with any fees and lets you choose gift cards from major retailers like Amazon, Apple, DoorDash and others. 
Donate your coins to the charity of your choice, based on what the kiosk allows. You can get a receipt in case you want to claim your donation as a tax deduction. 
How to Price Rare or Valuable Coins
Maybe you've just inherited a rare coin collection or are ready to cash in on a coin you've had stashed away for decades. Before you sell your coins to the first bidder, however, it's important to take the time to figure out how much they're actually worth. 
But how do you value coins if you don't have much knowledge about coin collecting? One of the best resources to start with is the Guide Book of United States Coins, also known as the "Red Book," by Richard S. Yeoman. This handy guide is considered the go-to standard for U.S. coin valuation and is updated annually to offer the most current information possible.  
Another great resource is Professional Coin Grading Services, which offers the most comprehensive database of U.S. coins on the internet, along with a price guide that can give you an idea of how much each coin may be worth. PCGS also has listings that allow collectors to purchase coins, which can help you get an idea of various dealers' current asking prices. 
It's recommended to focus on the prices at which the coin is currently being offered from reputable dealers instead of those that appear on auction site listings. Sellers on eBay can list items for any price they want to, and those prices don't necessarily reflect market value. There's no guarantee anyone will purchase a coin for its listed price on an auction site, so don't let those prices mislead you into thinking a coin is more valuable than you anticipated. It's much better to find out what someone has already actually paid for your coin in the past — or trust a reputable dealer's recommendations.
Coin Dealers and Appraisers
Once you have an idea of a realistic price range, having your coin professionally appraised can raise its value and make it more likely to sell. If you think you might make a significant amount of money, it's important to choose a potential appraiser wisely. 
Check out the appraiser directories on the websites of the American Society of Appraisers and the International Society of Appraisers to find a list of reputable professionals near you. It's also a wise idea to do a little background research on any potential appraisers that show up in your search results. Reputation and reviews can go a long way towards helping you narrow down your options. 
A professional coin dealer may also be able to help you locate a reputable appraiser, in addition to helping you take the next steps towards selling your coins when you're ready. Some of the best places to find legitimate dealers near you include the online directories of the American Numismatic Association or the Professional Numismatists Guild.
At this point, you may be wondering what a numismatist is. Numismatists are people who study coins, usually of the rare or collectible variety. These individuals have extensive knowledge they've gained through years of research on coins to become experts in this field. 
Where Can I Sell Valuable Coins?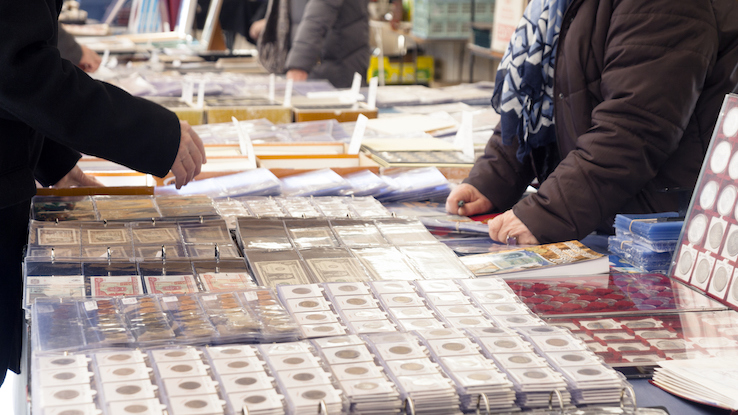 Doing your research will likely lead to one of two conclusions. You may discover that all those state quarters you've been holding onto are still only worth 25 cents each, with the possible exception of those with rare errors. No worries — it's best to hang onto them and hope that their value increases with time.
On the other hand, you may discover that you own one or more rare or valuable coins that could be worth some money. If you don't want to enlist the help of a professional coin dealer, such as those you'd find in the directories listed above, your best bet is to use the services of an online auction dealer, especially if you don't have professional experience in the world of coins. 
Two excellent online auction sites worth checking out are Heritage Auctions, the largest auction site in the world, and Great Collections, which offers free professional auction estimates. The benefits of online coin auction sites such as these revolve around the fact that they want to sell your coins, they have the marketing expertise to do so and they have an extensive reach that can get your coins in front of the right bidders.
Online auction sites come with the perk of getting your coins in front of thousands of potential buyers from all over the world. The tradeoff is that auction sites charge a fee for their services, usually a percentage of your final sale. You'll also want to look into how long it generally takes for them to pay sellers for sold items, just to make sure you avoid any surprises.