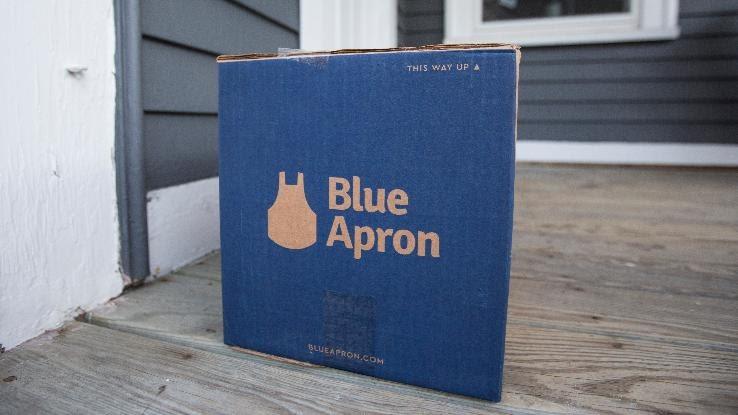 Most people agree that there's nothing better than a home-cooked meal. What happens if you're busy and you don't have time to buy groceries and prepare a meal? More and more people are opting for meal kit delivery services as a convenient way to eat delicious, healthy food without any meal preparation. Said kits arrive at their doorsteps — and they can start cooking. It's that simple.
Currently, Blue Apron is the most popular meal kit delivery service in the United States. Delivering two to four Blue Apron meal recipes per week, the service helps customers expand their cooking skills with proportioned ingredients, easy-to-understand instructions, and other cooking tips. 
Before you subscribe to the service, you might have some questions: precisely what is Blue Apron and how does it work? What kind of menus are available? How much does it cost? And, most importantly, are services like Blue Apron worth it?
What Is Blue Apron?
Founded in 2012, Blue Apron is a meal kit subscription service that delivers ingredients and recipes to customers across the U.S. The service provides two to four delicious, chef-designed recipes, complete with proportioned ingredients to help reduce food waste, step-by-step instructions, and other Blue Apron-approved recipe ideas. Since everything a customer needs is right there when they open their front door, Blue Apron makes it easier than ever before to cook up delicious, nutritious meals.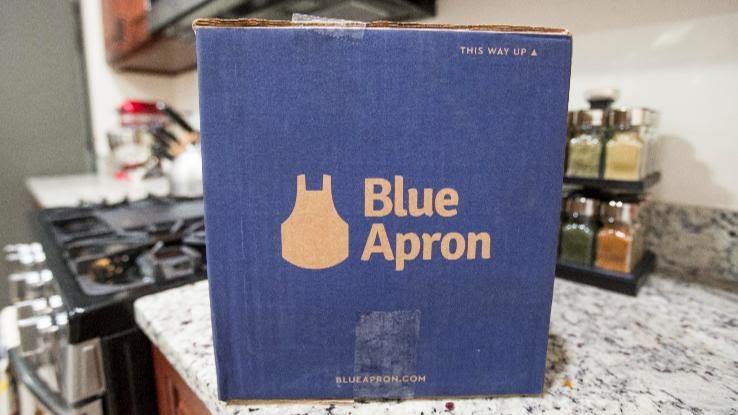 Moreover, Blue Apron helps customers cut back on the time they spend planning out their weekly meals, as well as their time shopping for groceries. Each delivery provides the ingredients and recipes for a subscriber's weekly meals, offering a convenient service for busy folks who don't have time to make frequent grocery store trips. In addition to its convenience, Blue Apron also offers healthy alternatives for customers with strict dietary needs. Best of all, the subscription service is less expensive than dining out on a regular basis for most customers. 
How Often Do You Pay For Blue Apron?
To get started, customers choose a meal plan. Currently, Blue Apron offers three plans depending upon your dietary needs. These plans include: 
Signature: Priced at $9.99 per serving, customers have a choice of two, three, or four 2-serving meals per week, including a mixture of meat, fish, Beyond Meat (plant-based meat substitutes), Weight Watchers-approved, and diabetes-friendly meals. Customers may also choose an alternate Signature plan for meals that serve four people.
Vegetarian: Priced at $9.99 per serving, customers can choose two or three 2-serving meatless meals per week. The meals focus on fresh, seasonal produce.
Wellness: Priced at $9.99 per serving, customers have the option of two or three 2-serving meals per week with balanced, nutritionist-approved meals designed for those with strict dietary needs, including those who are practicing carb-conscious diets and those enrolled in the Weight Watchers program.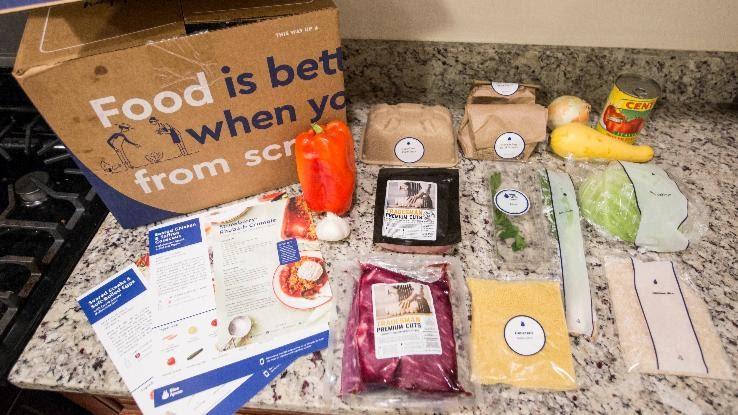 After choosing a plan, customers select their meals for the week from the Blue Apron menu choices, which offers a rather wide variety of chef-designed meals. Then, all you have to do is wait for your insulated package to arrive at your doorstep. Unpack your box — which will contain all those fresh ingredients and recipe cards — and, when you're ready, start cooking.
Blue Apron always ensures that your plan is customized for your needs and tastes. As such, customers can adjust their servings and delivery day based on each week's needs. If you need to skip a week or cancel, there won't be any issues, so long as your order for that week hasn't already been processed.
Does Blue Apron Let You Choose Meals?
Every week, Blue Apron offers an updated menu with new meal options for customers. Depending on their meal plan, customers can choose two, three, or four meals from the weekly menu. The offerings include:
Garlic-caper chicken
Italian chicken and farro bowl
Sautéed beef and bok choy
Grilled hamburgers
Three-cheese flatbread
Sambal-glazed salmon with cilantro rice
Black lentil salad
Grilled steak fajitas
Spicy turkey and mushroom lettuce wraps
Garlic butter shrimp with roasted potatoes
Mushroom tempura and avocado rice bowl
Dijon-roasted trout with potatoes
Lime and date chicken
Grilled steak with sweet potato wedges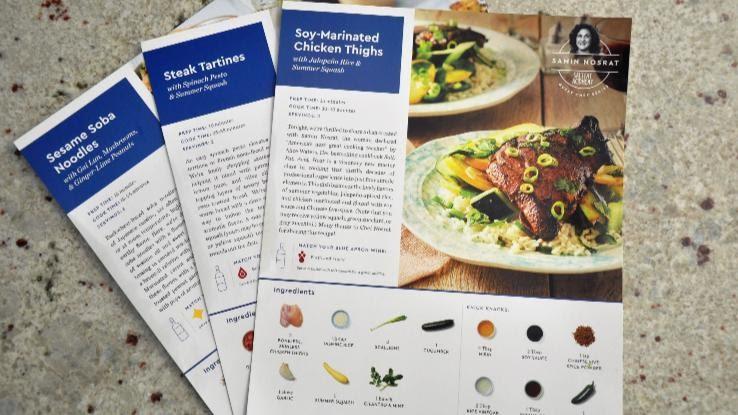 After choosing your meals, a Blue Apron box, complete with ice packs and insulated liners, will be delivered to your home — freshness guaranteed. Inside the box, you'll find that the ingredients are labeled appropriately. Plus, the service is sure to point out any potential allergens. And those ingredients don't just include proteins and veggies; you'll also find all the seasonings and spices you need to start cooking up a storm. 
Additionally, each package includes easy-to-read recipe cards, all of which are written for beginner home cooks. Most of the recipes take less than 45 minutes to prepare and cook, and you'll only need one or two pots and pans, making clean up equally as easy.
Is Blue Apron Good For Weight Loss?
By partnering with Weight Watchers, Blue Apron provides meals for those who have weight-specific goals. Beyond that, the service also boasts offerings for folks with specific dietary restrictions. Regardless of the meal plan one selects, the ingredients in every meal are free of genetically modified organisms (GMOs), and most of the produce and ingredients are organic.
The weekly menu options include selections that fit certain needs, including those who have a reduced-calorie diet, or meals that with 600 calories or less; meat-free vegetarian diets; diabetes-friendly diets, in accordance with the American Diabetes Association's guidelines; carb-conscious diets, which contain 48 grams or less of net carbs per serving; Weight Watchers diets, which focus on vegetables and lean proteins; and plant-forward diets that aren't strictly vegetarian but offer just a small amount of meat and fish.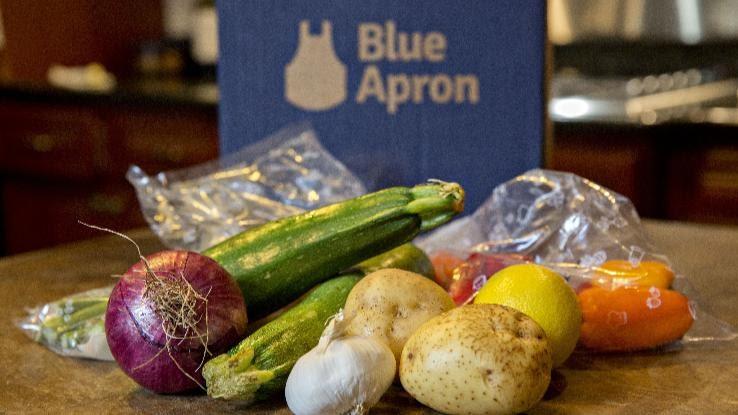 That being said, Blue Apron isn't the best option for those with gluten-free, allergen-free, vegan, keto, or paleo diet restrictions. For stricter diets, try Sunbasket, another subscription meal service that provides meals for those on paleo, low carb, gluten-free, reduced-calorie, diabetes-friendly, vegetarian, pescatarian, and Mediterranean diets.
Other top-notch subscription food delivery services include HelloFresh, which provides vegetarian, reduced-calorie, and pescatarian dietary meals; Home Chef, which offers vegetarian, reduced-calorie, and low carb menus; and Green Chef, which boasts keto, low carb, paleo, and vegetarian meal options.
So, Is Blue Apron Worth It?
Perhaps surprisingly, Blue Apron is one of the most cost-effective meal kit services on the market — and it doesn't sacrifice quality. For those with busy schedules, or folks who need help planning their meals, it's certainly worth it. With a variety of choices, easy-to-follow instructions, and an incredibly convenient delivery cadence, the subscription service is a game-changer. So, stop pacing around your kitchen and get cooking with Blue Apron.