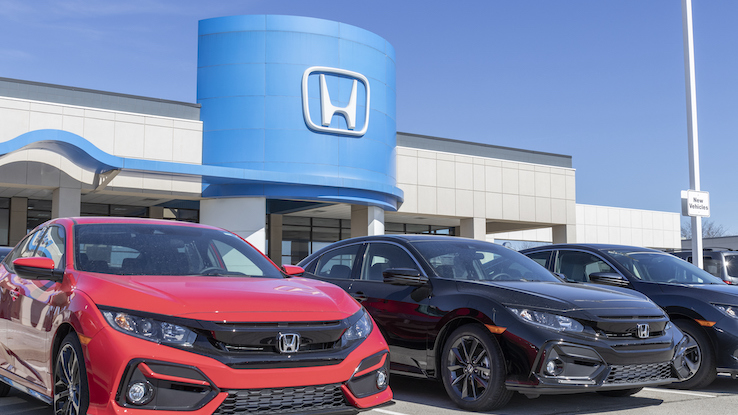 In the world of budgeting, it isn't common to factor how much a car sells for into the equation. However, doing so isn't a bad idea for several reasons. Most people don't drive their vehicles until they no longer run whatsoever. Instead, they either sell them or trade them in when they start used car shopping for a newer model or decide to get a new vehicle.
Since the value of your current car impacts what you can earn when you sell or trade it in, choosing used cars that hold their value is one of the more overlooked budgeting tips. It could help you spend less on your next vehicle purchase by reducing your monthly payments or allowing you to buy with cash next time around.
If you want to make the most of your vehicle when it's time to sell, here are five cars that hold their value.
1. Honda Civic
When it comes to classic sedans and hatchbacks, the Honda Civic is considered a mainstay. It has a reputation for having a long life and reasonable maintenance costs. Plus, the combined city/highway MPG can be as high as 36 (based on newer models), depending on the trim level and version. As a result, this compact sedan stands the test of time and will likely continue to do so.
2. Mazda 3
One reason that the Mazda 3 holds its value is that it's fun to drive. While it's a smaller car, it feels peppy on the road, making time spent driving more enjoyable. Plus, it has a nice look with a bit of an edge, causing it to appeal to a wide audience.
Plus, newer models have MPGs of 26 to 31 (combined city/highway), depending on the version, which is pretty reasonable for a car with this kind of driving experience. Generally, the resale value remains high for at least five years, which is a solid amount of time.
3. Subaru Crosstrek
For outdoorsy types, Subaru is a go-to brand. The Subaru Crosstrek is a particularly popular choice because it's larger than many cars and feels more like an SUV — without some of the SUV drawbacks.
For example, the MPG (city/highway combined), based on newer models, is in the 25 to 30 range, while the hybrid gets up to 90 MPGe. That's far better than the typical SUV. It's also got all-wheel drive as a standard feature, which is why it's a favorite for people who don't stick to traditional roads or frequently navigate challenging weather.
4. Toyota Tacoma
In the world of mid-sized trucks, the Toyota Tacoma is often viewed as a leader. It's small enough to be comfortable to drive in the city but big enough to handle some hauling. Plus, some versions are offroad-capable, tapping into another market segment.
Since people have been focusing more on smaller trucks in recent years, that puts the Toyota Tacoma in an even better position. Couple that with a reasonable 18 to 21 MPG city/highway combined (based on recent models), and it doesn't necessarily cost more to operate than other trucks, which only broadens its appeal more.
5. Kia Rio
The Kia Rio is traditionally a budget-friendly option, making it a favorite among buyers looking for affordable used cars. As a result, it can hold its value well; budget-conscious shoppers view the small sedan as a viable option. Plus, the car has a classic but slightly sporty look, allowing it to appeal to the masses. It's also fuel-efficient, with recent models getting a combined city/highway 36 MPG.