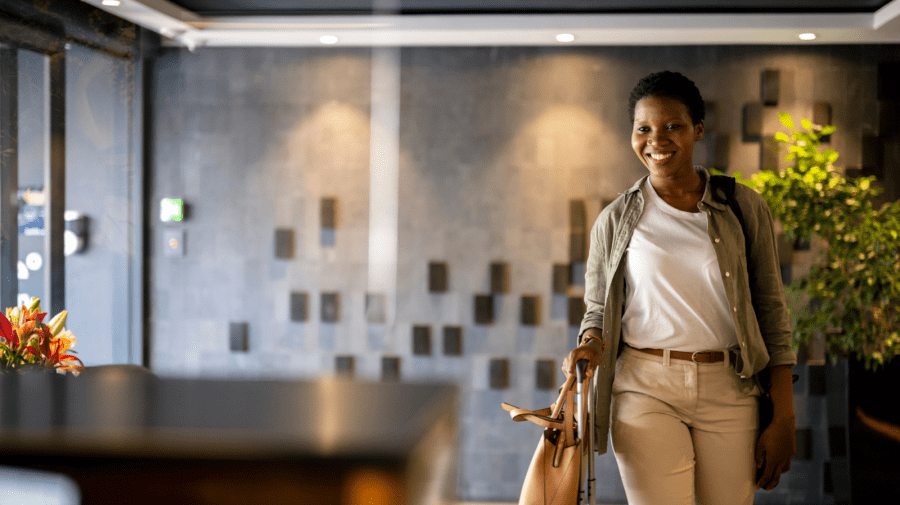 Marriott Hotels has a variety of brands under its umbrella, which means there are over 7,000 hotel locations worldwide that fall under the Marriott family. From the Ritz Carlton to the Residence Inn, Marriott brand hotels offer guests quality stays and stellar customer service. Now, the hospitality company offers a rewards program, Marriott Bonvoy, to help their frequent and repeat guests earn savings on future trips.
Formerly known as Marriott Rewards, Marriott Bonvoy gives you a certain amount of reward points depending on where and how long you stay. The program also offers other great perks that'll make your stays at any hotel under the Marriott umbrella even better. Here, we're delving into all things Marriott Bonvoy to help you determine if the rewards program is right for you.
What Is Marriott Bonvoy?
Marriott Bonvoy is a free rewards program for guests who stay at a Marriott-branded hotel. As a basic member, you receive special member rates for upcoming stays. But that's not where the perks end. You'll also enjoy free WiFi, mobile check-in and a mobile key that's accessible right on your smartphone.
Of course, you'll also receive reward points that correlate to the price of your room and the number of nights you stay. Those reward points can be used to book future stays, or you can redeem them at other hotel partners, like select airlines and restaurants.
Like other rewards programs, this one features various levels that relate to how many nights you've stayed at a Marriott hotel. Depending on your level, you may receive a bonus amount of reward points, complimentary late checkout, welcome gifts, complimentary breakfast, free room upgrades and other perks. Once you've checked in for at least 10 nights in a single year using your Marriott Bonvoy account, you'll start climbing up the program's levels. If you're a frequent traveler, either for business or leisure, attaining Marriott Bonvoy's elite status isn't too difficult at all.
While membership with Marriott Bonvoy is free, you can apply and use the various Marriott Bonvoy credit cards that are offered if you want to accrue even more reward points. In partnership with Chase Bank, Marriott Bonvoy offers cards like the Marriott Bonvoy Boundless Card, which gives new users three free nights at a Marriott Hotel after qualifying purchases.
The Pros and Cons of Using Marriott Bonvoy
The Pros
Like with any rewards program, Marriott Bonvoy comes with its pros and cons. The major pro? All those special perks that can be used during your stay. But that's not all. You can also earn points outside of hotel stays. Once you're a Marriott Bonvoy member, you can earn points by renting a car with Hertz or flying with Marriott's partner airlines. You can even earn points by dining with select restaurants, both in far-off places and near your home town.
Another benefit of using Marriott Bonvoy is the program's Stay for 5, Pay for 4 initiative. For every five consecutive nights you stay at the same Marriott hotel, you receive the lowest Marriott Bonvoy point-value night free — a perk that's great when you're taking a week-long vacation or traveling for an extended period of time for work.
The Cons
So, what are the cons? Although earning points is easy, you have to accumulate a large number of reward points for a free night. According to the rewards chart, it would cost 5,000 points for a free night at just a "Category 1" hotel — those are less bells-and-whistles lodgings, like the Fairfield Inn by Marriott. NextAdvisor calculates that Marriott Bonvoy points are worth 0.5 cents each (of your price).
But that's not the only points-related drawback. Unfortunately, Marriott Bonvoy points will expire if you don't have what Marriott sees as qualifying activity from the past 24 months (that is, paid stays, point redemptions, and so on). Also, be aware that Marriott doesn't typically waive resort fees when you use points to book a stay — and it's not always guaranteed that you will find a room during your desired travel dates.
How Does Marriott Bonvoy Stack Up Against Other Hotel Rewards Programs or Booking Site Promos?
Marriott certainly isn't the only hotel with a rewards program. In fact, other hotel loyalty programs offer many of the same perks. When it comes to redeeming points while traveling or transferring rewards from approved credit cards, Marriott's program appears to come out on top. However, it's been reported that the Hyatt and Hilton typically waive resort fees, unlike Marriott. It's also easier to get to a higher elite status with Hilton, which requires fewer nights at the hotel to reach those higher levels.
Additionally, sites like Hotels.com and Booking.com offer great discounted rates for hotels all over the world beyond — and you aren't just limited to one brand. These websites also provide rewards points for savings on future stays. With third-party booking sites, you generally get more options and more flexibility. However, if you're traveling frequently and want some of those rewards program perks, Marriott Bonvoy may be the way to go.
The Bottom Line: Is Marriott Bonvoy Worth It?
Ultimately, it depends on how much you travel. Since it takes a while to rack up points — and since they can be lost in a matter of a few years — the program may not be worthwhile if you're an infrequent traveler. For the occasional vacation or business trip, you're probably better off booking a cheaper rate on a third-party booking site. But if you're a frequent traveler and you find yourself enjoying Marriott's portfolio of hotels, then it's a great rewards program.
Of course, since it's a free program, you're not losing anything by making an account and testing the waters. Even if you don't travel a ton, a few lengthy stays could make having Marriott Bonvoy in your back pocket a pretty great thing. After all, that's the beauty of these hotel rewards programs: you can just use them when needed.