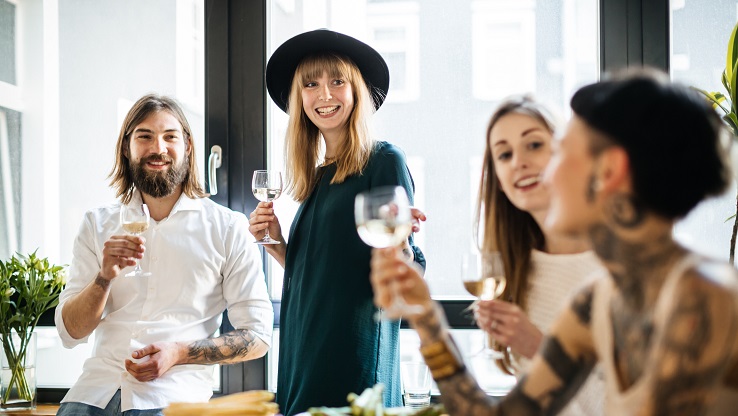 The Wall Street Journal (WSJ) is known for its groundbreaking journalism, but wine lovers may be interested in the WSJ for a completely different reason. What you may not know about? The WSJ wine offer, a quarterly subscription service that lets you taste a variety of wine every few months.
While the reviews rave about this subscription, receiving a case of quality wine for under $100 may have you feeling skeptical. Is it too good to be true? Is it top-notch wine that's worth sipping? Here, we'll take a closer look at the WSJ wine offer to see if it's really all that, whether you're gifting a subscription or using your own sign-up to stock up on wine this year.
What Is the WSJ Wine Offer?
Believe it or not, The Wall Street Journal has an entire website dedicated to wine. Around the holidays, the WSJ wine club regularly offers an impressive special to entice wine connoisseurs and newbies alike. So, what's the WSJ's impressive discount? Hold on to your wine glass — it's $125 off a case of 12 bottles of wine. If you take advantage of the offer, you'll receive a dozen bottles of what's described as "premium wines" — for just $69.99.
Best of all, you can choose between a box of red wines, a box of white wines, or a box containing a mixture of both. If you purchase a subscription through the offer, you'll receive a few bonuses: two additional bottles of wine and a pair of wine glasses. Regardless of which you select, all of the cases offer an international selection of wine.
Want to take advantage of this impressive savings? If you're a new customer, you'll have to subscribe to the WSJ Wine Discovery Club; every quarter — that's four times a year — you'll receive 12 bottles of wine for $189.98. That price includes both shipping and taxes, but, even if it seems a tad steep, you'll be happy to learn that you can cancel your subscription at any time.
That said, you can certainly sign up just to take advantage of the special holiday offer. It might just be the best (and most fun) way to stock your bar!
Is the WSJ Wine Offer Worth It?
At just $69.99, the special WSJ wine offer will nab you a dozen bottles of wine; do some quick math and you'll discover that's under $6 per bottle. (And that's not even counting those bonus bottles and wine glasses!) Outside of this seasonal introductory offer, the cost of each bottle averages about $15.83. For premium quality wine made abroad, that's still a pretty solid deal.
However, the value of the offer largely depends on how much wine you drink in a year — and if you're open to receiving a random selection of whites, reds, or both. Are you extremely particular about the wine you drink? This might not be the best subscription for you. Moreover, you might not need 48 bottles of wine a year, so it could get overwhelming.
Does the WSJ Wine Offer Save You Money?
In a full year — and not counting the discounted introductory offer — the total cost of four cases of wine is $759.92. That's less than $800 per year for 48 bottles of wine. Generally, the average bottle of wine costs $15.66, while higher quality wines tend to cost around $32.48 on average.
The WSJ wine offer allows you to try different types of wines each quarter; selections rarely repeat, but subscribers can be very split over how much they enjoy particular wines included in past cases. Considering that each bottle is supposed to be of "premium" quality, each bottle you'll receive as a WSJ wine subscriber is often half the sticker price when you break down those numbers. Sometimes, a few bottles will cost well over $30 in stores, which means even more stellar savings for you.
The verdict? On average, a WSJ wine customer is saving money, especially considering the fact that some of the international bottles may not be accessible for you to purchase on your own.
Pros and Cons of the WSJ Wine Offer
One advantage of the WSJ wine offer? Exclusivity. While it's not always the case, the wine selections can be rather unique. The WSJ wine club is associated with another one in the United Kingdom; with a customer base spread across two counties, the clubs have some impressive purchasing power — and the ability to buy up rare wines before they go out of stock.
Not sure how quickly you'll go through a case of 12 bottles? You can always delay your upcoming shipment — or skip a case altogether. Before the order ships, you'll usually be able to see some of the details associated with your quarterly selection, but you may not get the full names and descriptions of all 12 bottles in advance. That said, skipping a case might cause you to miss out on something you'd like to try.
You can change your choice of red, white, or mixed cases at any time. However, the ability to select exactly what will be in each box isn't available. To somewhat ensure you'll like the selections you receive, you can enter your preferences. But it should be noted that each quarterly box is uniform across all subscribers, so you're kind of at the mercy of the majority's taste in wine. If you're an experienced wine drinker, the lack of customization may be a major drawback.
How Does the WSJ Wine Offer Compare to Competitors?
At one time, the WSJ wine club was the best price on the market. But these days plenty of other wine clubs and discount sellers have gotten in on the trend. With all that competition, the WSJ wine offer is now considered a mid-level option.
That said, while other wine-box subscriptions may be less expensive, they might send you lower quality options than WSJ does. Additionally, international selections aren't the industry standard and some services only offer six bottles of wine per case.
Another potential pain point? The WSJ wine offer is generally limited to reds and white, while other services offer rosés or sparkling options. And, due to the WSJ wine club's size, you might not be able to taste offerings from smaller wineries and vineyards. If you're looking for a more boutique experience or a service that specializes in certain varieties of wines or wine regions, other options might be a better fit.
So, when it comes to more choices and customization options, the competition may have the WSJ beat. The bottom line? The WSJ wine club is by no means the highest quality wine subscription on the market, but it does offer a wide selection of lauded international wines at a comparatively great value. If you're still not sure if the WSJ wine offer is right for you, there's certainly no harm in trying it out, especially if you take advantage of the seasonal discount.