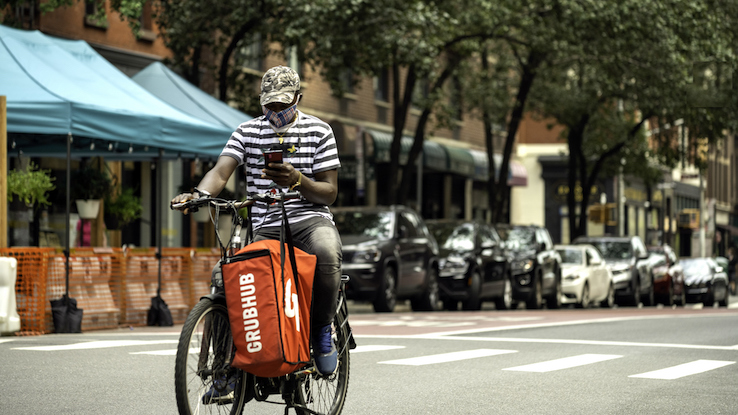 Companies like Grubhub have drastically changed how people work. Whether you're looking for a full-time job or just a part-time gig to earn extra money, this new type of employment has changed how people work and how services are provided.
Performing contract work through companies like Grubhub gives you not only an opportunity for personal freedom but also a way to find financial freedom. Many drivers are taking the extra money they earn and using it for education or investing for retirement. If you're thinking of working as a delivery driver via Grubhub, here's what you'll want to know to get started.
How to Drive for Grubhub
Grubhub is a food delivery service that uses contract workers nationwide to fulfill its orders. The service is very similar to rideshares like Uber and Lyft, but instead of transporting people from one place to another, Grubhub focuses specifically on food delivery.
Working for Grubhub isn't particularly difficult. All you need is a means of transportation and a phone. After you're approved to deliver for Grubhub, you can start logging on to your account and marking that you're available to accept deliveries. You'll start receiving orders that need to be delivered in your area, and you can select which ones you want to pick up and transport to customers.
Once you choose an order to fulfill, you'll head to the restaurant to pick it up. The restaurant does all the work of preparing and packaging the food. After you pick it up, you deliver the meal to the customer at the location listed on the app. You not only get paid for completing the delivery, but the customer can also choose to tip you for your service.
How Much Can You Earn Driving for Grubhub?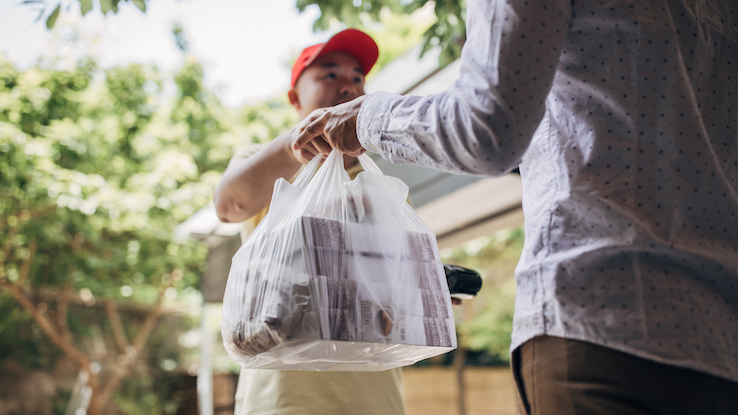 Grubhub doesn't provide estimates on how much drivers can make. This is because everyone earns different amounts based on their area, the orders they accept and how many hours they work. 
Grubhub does pay a flat fee per delivery, which ranges from $3.50 to $4.00, in addition to $0.50 per mile between the pickup and dropoff locations. You also get to keep all the tip money customers give you. There are also other rewards and incentives that Grubhub offers for completing tasks.
In the state of California, Grubhub is required to pay 120% of the local minimum wage. In addition, some drivers may be eligible for benefits such as health subsidies. There are also mandatory rest periods and training for Grubhub drivers in California.
Other states may also have requirements for services that Grubhub must comply with. Likewise, Grubhub offers some drivers guaranteed pay, which usually equates to minimum wage, even if no deliveries come in.
The Pros and Cons of Driving for Grubhub
Grubhub has several pros and cons potential drivers should consider before deciding to work through the delivery app. One notable positive is the flexibility in work schedules. You can choose the hours you want to work, and they don't have to be the same from day to day.
However, there's some competition involved. It's possible you might live in an area where there are more drivers than there is demand for delivery, which may leave you waiting for orders to come through. To combat this, Grubhub does have a system in place for choosing the hours you're going to work. It operates on a first-come, first-serve basis, so you may not be able to work at the last minute.
There are also no bosses or management to deal with — you're essentially your own boss. Despite this, you still don't have complete control over how you work. You can be removed from the platform for misconduct or below-average performance.
Another factor you need to consider is that you'll encounter customers who may not always be satisfied with your performance, which is why it's important to be timely with deliveries. If you have customer service experience, you may find that this isn't an issue.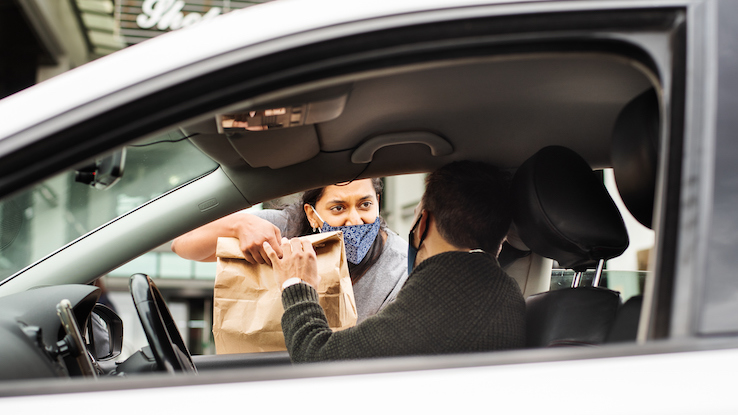 Another downside? The pay may be low, depending on how much you work and the geographic area you live in. At times, you may be making minimum wage or less. On a positive note, Grubhub offers an instant payout to get your money as soon as possible.
One last thing to consider is the wear and tear on both yourself and your car. Driving long hours and getting in and out of your car can take a toll on your body. As for your car, you could end up putting a considerable amount of wear on it as well. You'll also need to supply your own fuel, which can eat into your profits.
Is Grubhub Right for You?
Driving for Grubhub certainly isn't for everybody, and you may wonder whether or not it's right for you. Gig jobs like rideshare and delivery services offer a great way to make extra money, but you could find Grubhub driving doesn't suffice as a primary income source. It's ideal to approach it as an opportunity to earn extra income and then transition into full-time work once you've determined it's available and you're comfortable with the process.
If you're looking to work different hours, you may also succeed with Grubhub or a similar delivery company. By driving more hours and keeping customers satisfied, you can rise to the Pro or Premier driver tiers, which gives you access to scheduling blocks earlier.
If driving for Grubhub sounds like it's for you, sign up and try it. If you're still on the fence, research other alternatives like Waitr, UberEats and Doordash first. For an alternative to food delivery services, consider Uber and Lyft, which are similar but involve moving people instead of food.
How Do I Apply to Drive for Grubhub?
Getting started with Grubhub is easy — you simply need to fill out the form on the company's website. You'll also need to provide some personal information for background checks and tax purposes, along with details about your car insurance policy. Once approved, you'll gain access to your account and can start working.
Remember that taxes aren't withheld from your Grubhub earnings; you'll need to pay estimated taxes on the money you take in. However, on your tax return, you may also be able to claim certain expenses, such as fuel and vehicle repairs. Before getting started, it's wise to talk to a tax expert to determine how earnings from this type of work could impact your return.